Groupon Scores Its Own Deals Thanks to a Risky Attack
When Groupon (NASDAQ:GRPN) celebrated its fifth birthday earlier in November with a redesigned website, it was mostly celebration and very little talk. The Chicago-based tech company honored its becoming another year older by rolling out an updated mobile app and a more consumer-friendly website. However, CEO Eric Lefkosky was noticeably mum about the events that led to Groupon's recent, significant success. Fortunately, it is all finally becoming a little clearer.
Insider sources told AllThingsD that Groupon launched a calculated price-cutting attack last year in the United States, deliberately targeting rival LivingSocial's business. The daily deals website has said from the beginning that it would never cut its margins, even in the face of increased competition, but things reportedly changed last year, when Groupon decided to lure in new businesses and customers with undeniable deals.
In the past, Groupon would never accept less than 30 percent of the proceeds from the daily deals it sold on its website, but once the company realized it could attract new, top-prospect businesses with lower margins and more appealing take-rate cuts, management caved and Groupon allowed its revenue to drop with the understanding that it was actually increasing the number of deals in its marketplace, according to AllThingsD.
Investors initially weren't happy when they recognized the subsequent revenue drop earlier this year, upon the release of Groupon's fourth-quarter earnings, but AllThingsD highlighted in its report how the initiative is actually now recognized as successful for the company, despite the initial revenue hit.
AllThingD's Monday report outlined two realities: that Groupon's attack significantly increased its number of partner businesses and that it successfully hit LivingSocial.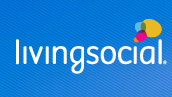 Groupon spokesman Paul Taaffe confirmed as much in an email to AllThingsD: "The broad view was that it was hugely successful" — and that can by easily witnessed by consumers on Groupon's website, who benefit from the increased number of vendors they can now score deals from. The Chicago-based firm won its own deals by securing the partnerships of many top-prospect businesses by offering take rates at figures companies simply couldn't refuse; Groupon also successfully stole business from LivingSocial, its goal from the get-go.
Groupon's success against LivingSocial has some evidence in the form of an RBC Capital Markets survey of 1,540 consumers, in which 72 percent responded that they had purchased a deal from Groupon in the last 12 months, while only 36 percent reported to have  purchased a LivingSocial one.
Nonetheless, Groupon still has a long way to go, but it at least can still ride the high of its risky, yet successful attack on a longtime rival while hoping that soon, the competition will be gone for good.
Don't Miss: Which Apps Are Stealing Teen Users from Facebook?