Growth Forecast Dimming, Anxious HP Shuffles Leadership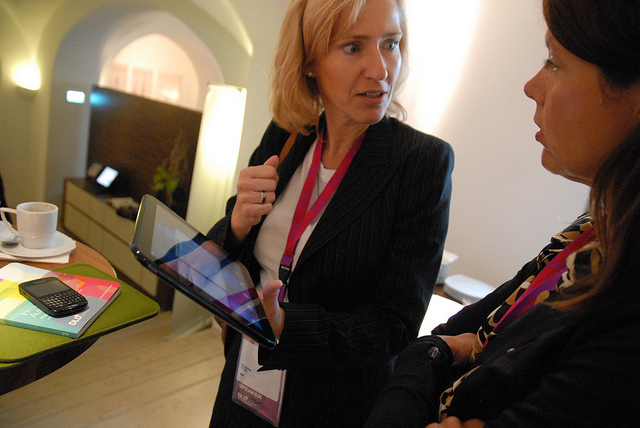 "We once again achieved the financial performance we said we would, delivering $0.86 in non-GAAP diluted earnings per share, within our previously provided outlook of $0.84 to $0.87," Hewlett-Packard (NYSE:HPQ) CEO Meg Whitman said in the company's earnings press release, published Wednesday.
She continued: "I remain confident that we are making progress in our turnaround. We are already seeing significant improvement in our operations, we are successfully rebuilding our balance sheet, our cost structure is more closely aligned with our revenue and we have reignited innovation at HP, with a focus on the customer."
But to Wall Street, the 8 percent drop in GAAP net revenue and the 14 percent decline in adjusted earnings suggested that the computer company was not making as much progress in its turnaround as hoped. Shares of Hewlett-Packard dropped as much as 5 percent after the market closed Wednesday, and shares were trading down by as much as 12.92 percent Thursday morning.
Through Wednesday, before the third-quarter results were released, the stock had advanced more than 78 percent as investors became more confident in Whitman's efforts to reshape the company. For the past two years, she has looked for ways to reduce HP's dependence on the personal computer market, which has collapsed as tablets and smartphones increasingly dominate computing.
During the company's Wednesday earnings conference call, Whitman told analysts that growth in the next year was "unlikely" because of the poor performance of both its Enterprise Group and PC divisions. That contrasts with comments the chief executive made last May, when she asserted that fiscal 2014 revenue growth was still possible.
Not only did HP report a larger-than-expected decline in revenue, but it also forecast zero revenue growth next year. With the grim results and even worse prediction for 2014 as a backdrop, Whitman and HP announced alongside the quarterly results a change in personnel meant to "help the company accelerate its turnaround." Bill Veghte, the company's chief operating officer, will become executive vice president and general manager of the HP Enterprise Group, replacing Dave Donatelli as leader of HP's second-largest business division.
Donatelli has now been charged with identifying "early-stage technologies" for investment, the company said, while Veghte will be responsible for coordinating the development of the company's portfolio of cloud computing solutions.
HP says Donatelli orchestrated a number of the company's most important acquisitions in recent years including 3Com and 3PAR, two purchases that helped better position HP in the networking and storage markets, respectively. As Whitman acknowledged in the conference call, the tech company is once again seeking strategic acquisitions, which she said will fuel the company's transformation.
"As COO, Veghte helped create HP's blueprint for the future, and he deeply understands the strategic challenges and opportunities facing both the company and its customers," the company said in a press release announcing the management change. "He understands how HP operates and how to create comprehensive solutions that help HP's customers capitalize on the enormous shift toward the 'New Style of IT.'"
Of course, it bears remembering that fellow personal computer manufacturer Dell (NASDAQ:DELL) has had a much more difficult time adjusting to the changing technology trends. Although Dell's second-quarter earnings managed to clear the low bar set by Wall Street, the results reported August 15 contained very little good news for investors.
Dell's net income came in at $204 million, or 12 cents a share, a 71 percent drop from the $732 million, or 42 cents per share, the company reported in the year-ago quarter.
Follow Meghan on Twitter @MFoley_WSCS