Guess How Much iTunes Users Fork Over Annually
Respected Apple (NASDAQ:AAPL) analyst Horace Dediu at Asymco provides an interesting breakdown of how much money the average iTunes store user is forking over to Apple each year, as well as a thorough breakdown of the iTunes store's overall revenues.  First, Dediu notes that Apple's iTunes quarterly revenue recently surpassed $4 billion, which is a 32 percent increase.
Based on the fact that Apple reported 500 million iTunes users in the March quarter, Dediu calculates that each user spends approximately $40 a year on Apple content and services. Dediu also notes that iTunes revenue growth has been remarkably steady by growing at an average rate of 29 percent per quarter over a six-year period.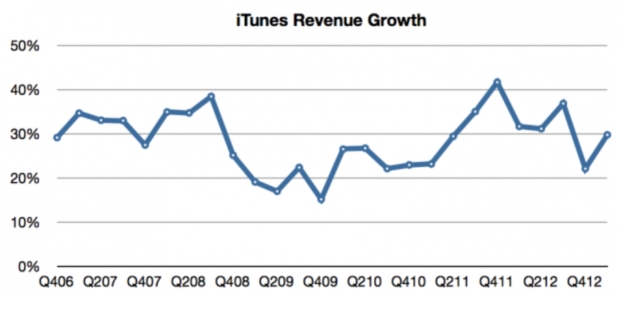 Although Apple originally intended the iTunes Store to run as a "break-even" operation that would primarily function as a peripheral music service for customers buying the high-profit iPod, it has become a profitable venture in its own right. Market research firm Canalys estimates that the iTunes App Store is responsible for 74 percent of the total amount of global app sales.
Dediu notes that there are iTunes App Stores in 155 countries around the world. This means that approximately 90 percent of the world's population resides in a country with iTunes App Store access.
Apple reports that users download approximately 800 apps per second. Apple is expected to hit the 50 billion download mark sometime this month and is offering a $10,000 App Store gift card to celebrate this amazing milestone.
Not only do these figures demonstrate Apple's consistent growth as a company, they are also a demonstrable result of Apple's premium content ecosystem. The premium content rooted in Apple's iTunes Store is what attracts Apple's high-value consumers.
Apple shares closed down 0.83 percent at $452.97 on Friday after shedding $3.80 from its price at the opening bell. Here's how Apple has traded over the past week.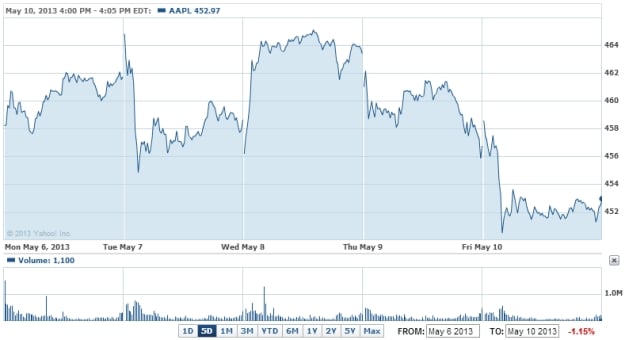 Don't Miss: What's Happening to the iPhone Camera?