Has Apple Got a New Mac on the Horizon?
Apple (NASDAQ:AAPL) may soon release a new Mac Pro — not a simple refresh. The machine could present a momentary boost in the company's sales, though it may still be a few months away from hitting retail shelves.
The rumors surrounding an updated machine are all falling into line. Last June, Apple updated its line of Mac Pros with higher-end processors and "random access memory" — typically abbreviated as RAM — but the machine was larger than earlier models had been, leading one customer to complain. Interestingly enough, Chief Executive Officer Tim Cook responded to that customer by promising an update this year.
The previous update to the Mac Pro didn't include the new and faster USB 3.0 ports or Apple's own Thunderbolt port, which Apple has included on other computers since 2011. While the changes Cook promised could simply incorporate those missing features, it seems more likely that Apple will completely revamped the machine, especially considering that Cook said it would be a "really great" update.
Giving credence to the likelihood that Apple will revamp that iMac was a memo from an authorized reseller and a Mac Daily News source. The reseller's memo said that Apple was working toward a spring release of a new Mac Pro, and the news source suggested that April would be the month that Apple announced a new model. However, Mac Daily News also warned that April may be a bit too optimistic and the date could be as last as June.
In January, Apple managed to defy the trends in the PC market, as its U.S. Mac sales rose 31 percent year over year, though the quarter still recorded a decline. The release of a new Mac Pro could drive sales up in whatever month it is released and lead to results similar to January's. However, the Mac Pro sales may be even more limited to the United States, as the devices are no longer sold in Europe because the company chose not to follow the EU's new electrical regulations.
Here's how Apple finished out Tuesday's trading session: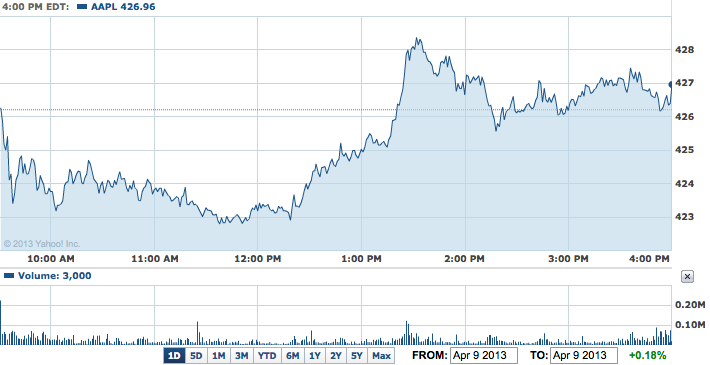 Don't Miss: Will The iPad 5 Debut This Summer?