Has Google Just Started a Browser Battle on Apple's iOS?
Will Google's (NASDAQ:GOOG) recent addition of an application programming interface in its Chrome iOS browser initiate the next big browser battle with Apple (NASDAQ:AAPL)? In a bid to grow its own browser user base on Apple's  iOS-powered devices, Google has announced a new application programming interface for the Chrome iOS browser via its Chromium Blog. Now developers can have their app links open automatically in Google's Chrome iOS browser, rather than Apple's Safari browser. This new API feature is appropriately named OpenInChromeController, and its use is outlined on Google's Chrome developer website.
Besides releasing the new OpenInChromeController API, Google has also recently revamped its Gmail application so that any links are automatically routed through the Chrome browser or any other Google-related app. YouTube links are now directly opened through its related app, while geographic searches are directed through Chrome Google Maps. Any other general links are routed through Google's Chrome browser.
This recent update is part of a larger effort by the Mountain View-based tech company to increase its browser market share and encroach on Safari's territory as the default iOS browser. Google also included a "one tap" return feature in OpenInChromeController, which gives users the option to return to the original app with one click. This feature makes it especially appealing to developers.
Although Google's Chrome iOS browser ranks far behind the default Safari browser on iOS, this recent change could jumpstart the company's emergence as a viable browser option on Apple's own devices. The only questions is: what is Apple going to do about it?
Here's how Apple and Google stock has traded so far this week: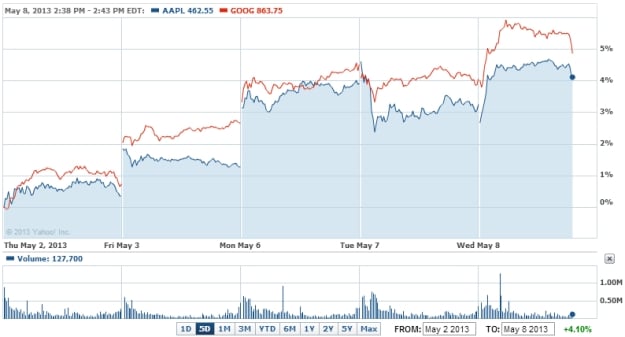 Don't Miss: How Are These Top Tech CFOs Making Their Big Bucks?