Has Microsoft's CEO Search Net Swept Up Ford's Mulally?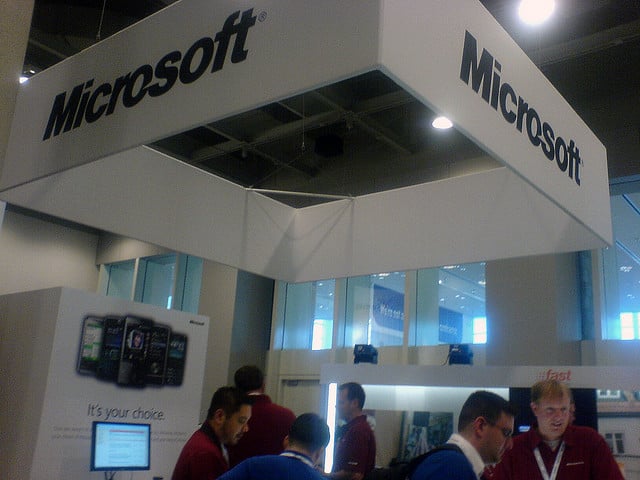 Company insiders have said again and again that Microsoft's (NASDAQ:MSFT) billionaire co-founder Bill Gates is not being considered to replace current Chief Executive Officer Steve Ballmer, yet the rumor that he could return to that leadership position persisted until Business Insider corned the Microsoft chairman after his speech before the United Nations earlier this week.
"No, I ran Microsoft for a period of time," he said in response to a question of whether he would return as CEO. Gates said that he is "part-time involved [in the company] and Microsoft's got a lot of stuff, the industry is doing a lot of cool things, and I keep my hand in that, but I won't be full-time doing that."
At the end of August, Ballmer announced he will retire within the next 12 months — in the midst of Microsoft's stalling campaign to realign itself with the changing technological trends — leaving John W. Thompson, Microsoft's lead independent director, with a difficult task. As the head of the board committee charged with finding a successor to Ballmer, he must find a new chief executive able to shape Microsoft's long-term future.
Investors are not very pleased with Microsoft's hardware forays. Not only have the company's efforts been underwhelming, the hardware business has much tougher margins than its traditional software business. They have been calling for Ballmer to step down for some time and for a visionary new leader who will focus on innovation rather than salesmanship to take his place. The chief executive has taken a great deal of criticism for the poor performance of Microsoft's stock since he assumed the leadership position in 2000. The stock has lost more than 40 percent of its value in the past 13 years, a symptom of Microsoft's inability to keep up with the changing technological trends.
Yet, Microsoft remains committed to entering the mobile device business. In July, Ballmer announced a "far-reaching realignment of the company that will enable [Microsoft] to innovate with greater speed, efficiency and capability in a fast changing world." In a  strategy document titled "Transforming Our Company," he noted, "as the times change, so must our company."
Basically, the transformation the CEO had in mind was a greater focus on tablets and smartphones. Then, at the beginning of September, Microsoft announced that had made a $7.2-billion deal to acquire Nokia's (NYSE:NOK) struggling cellphone business, a move designed to bring Microsoft into the leagues of Apple (NASDAQ:AAPL) and Samsung (SSNLF.PK).
The individual chosen to step into Ballmer's shoes will not only have to be capable of engineering a turnaround but have the ability to repair the Microsoft's strained relationship with Wall Street. Thompson — the former CEO of Symantec (NASDAQ:SYMC) and 25-year veteran of International Business Machines (NYSE:IBM) — must also convince critics that the committee's choice was arrived at independently, meaning that he and outside directors will not merely rubber-stamp the choice of Gates, who is also the company's largest individual shareholder as well as its chairman. "I have enormous respect for Bill," Thompson said in an interview with the Wall Street Journal Wednesday. "But I didn't accept the role on the board or the role as the lead independent director to be Bill's pawn."
In the interview, Thompson also dispelled another circulating rumor. It has been suggested that pressure from activist shareholder ValueAct Capital Management played a role in hastening Ballmer's resignation."That was not a factor at all," the director said. Ballmer announced his departure when he did because the planned overhaul could take much longer than he would like to stay at Microsoft and a leadership change midway through the transition would be worse than a switch now, explained Thompson.
"I give Steve an enormous amount of credit for saying, 'look, while it may not be the best time to do this from the vantage point of all of that's going on, it is, in fact, the best time to do this for the long-term health of Microsoft.'" While Thompson shed no light on possible candidates, the industry already has its favorites.
Through sources familiar with the matter, All Things D learned that Ford (NYSE:F) Chief Executive ALan Mulally is a lead contender. However, earlier this month, he did deny he had plans to leave the automaker. "I continue to be focused on serving Ford and I have my red Ford vest on right now!" he wrote in an email to the publication, referring to the sweater emblazoned with the Ford logo that he often wears for public appearances. But it bears remembering that Mulally acted as a close adviser to Ballmer when he planned Microsoft's realignment.
Mulally — the chief architect of the automaker's turnaround — has been CEO of Ford for seven years, during which time he initiated substantial cost cutting measures and reformed the company's lineup of vehicles, two actions that played a significant role in rebuilding the Ford's stock market value. Four years ago, shares changed hands for about $2 per share, while on Thursday, they closed at $17.27.
Earlier in September, Reuters did report that Ford's board of directors had given Mulally the option to step down from his position as CEO earlier than his contract stipulated, although at the time it was thought that move meant Mulally was considering a position in the Obama administration.
Of course, Nokia Chief Executive Officer Stephen Elop is still a top candidate. Microsoft's acquisition of the Finnish company's cellphone business locked Ballmer's successor into manufacturing devices, which is likely why many industry experts are favoring the former company executive and current Nokia CEO as the next chief executive. Elop chose to form a partnership with Microsoft when the company looking for an ally for its new smartphone software, Windows Phone. Nokia picked Microsoft's mobile operating software over Google's (NASDAQ:GOOG) Android and Apple's iOS, a deal that made both companies deeply dependent on each other for their mobile future.
Nokia agreed to only use Windows Phone to power its smartphones, while Microsoft pledged to spend billions of dollars on marketing and engineering assistance. But, even though Windows Phone has surpassed BlackBerry (NASDAQ:BBRY) as the third-biggest smartphone operating system, its sales have continued to stagnate amid competition from Samsung and other Android-powered smartphones.
Follow Meghan on Twitter @MFoley_WSCS
Don't Miss: Larry Ellison Is Getting Pay Heat from Oracle Investors