Has the iPad Murdered the PC?
Apple's (NASDAQ:AAPL) iPad is proving to be a much bigger drag on the PC market than previously thought, and the damp response to Microsoft's (NASDAQ:MSFT) Windows 8 has not helped matters, Sterne Agee's Shaw Wu said. According to Wu, worldwide PC sales will only grow just 2 percent this year, way less than the 9 percent growth forecast by several other market research firms.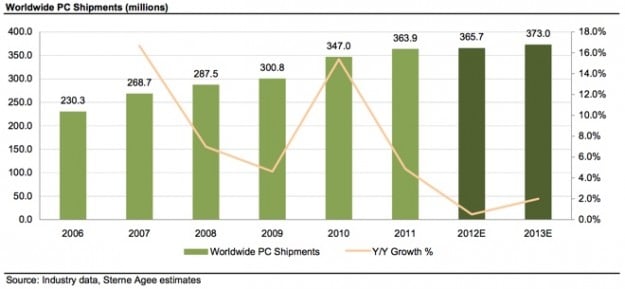 According to Apple Insider, Wu wrote in a note to investors that Apple's iPad, with a starting price of $329 for the basic iPad mini, as well as Google (NASDAQ:GOOG) Android devices had made Windows 8 hardware look "uncompetitive" and unattractive. Apple was also at an advantage from its "highly differentiated" Mac lineup, the analyst added.
Should you buy or sell Apple's stock ahead of earnings this month? Our 20-page proprietary analysis will help you save time and make money. Click here to get your SPECIAL REPORT now.
Adoption of Windows 8 was slower than expected because consumers were confused by the new operating system, with even Microsoft's hardware partners unsure about the right features to include, Wu added. "The feedback we have gotten from supply chain sources is that there is great confusion, as there are too many form factors (PC notebooks, tablets, ultrabooks, and convertibles) and most do not know what to build and will actually sell," he wrote.
Save time and make money with our LOWEST ADVERTISED PRICE EVER to help you achieve your financial goals in 2013. This is a LIMITED TIME OFFER, so get your Stock Picker Newsletter now!
Wu expected the PC to "become more of a niche" product used for specialized task, while smartphones and tablets became the "daily driver" of use. Consequently, PC refresh cycles would lengthen to between 5 and 7 years from the historic 2 and 3 years. Mobile devices, in contrast, will be upgraded every 1 to 3 years, he added.
Investing Insights: Is Apple Slowly Rotting Away?