Have Apple Shares Finally Found a Bottom?
Are Apple (NASDAQ:AAPL) shares finally bottoming out? Many analysts have noted the recent upward trend in Apple stock, but fewer can agree on what this trend means for Apple in the long-term. Since plunging from its $700-plus peak of September 2012; Apple has had a reputation, deserved or not, as a rather volatile stock.
The recent climb to $463.84 this week appears to be the fifth minor rebound since the stock's peak in September. Apple shares got as high as $589.53 in November 2012, before dropping to $509.79 in December. In January Apple shares climbed to $549.03 before dropping to $439.88 later in the month. February saw Apple shares hit a high of $479.93 before falling steeply again to $441.40. Similarly, in March Apple shares bounced to $463.58 before dropping to $442.66 by the month's end.
However, this latest peak was slightly higher than the last peak of $463.58 in March. This may be an indication that Apple is reversing a downtrend and has already found its bottom.
Philip Elmer-Dewitt at CNNMoney cites data provided by Bank of America's (NYSE:BAC) Merrill Lynch that also lends credence to this belief. Merrill Lynch analyst Stephen Suttmeier points to the improvement in the tech company's on-balance volume as an indication that Apple is "base-building." However, Suttmeier also points to some other important metrics for investors to watch.
Suttmeier thinks that if Apple holds support at $420 and couples that with a slightly higher peak of $470 to $485, this would be an even stronger indication that Apple has truly developed a "bottom pattern." Without a holding a support level at $420, Apple risks dropping into yet another downward trend.
Apple closed at $452.97 on Friday after shedding $3.80, or 0.83 percent, from its price at the opening bell. Here's how Apple has traded so far over the past week.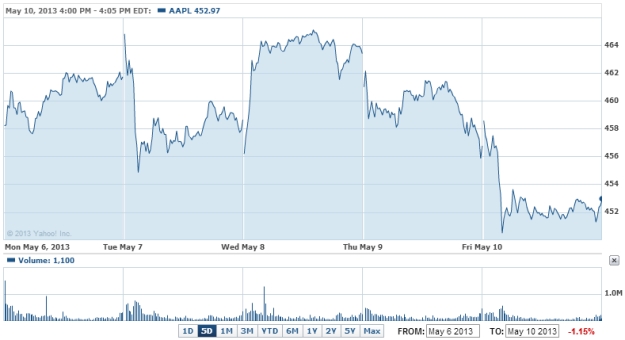 Don't Miss: Apple iTunes to Microsoft: Thanks, But No Thanks.