Here Are Microsoft's Major Announcements From E3 2014
Microsoft (NASDAQ:MSFT) was very focused on the games during its E3 press conference. It had plenty to show, some of which might have surprised viewers, while other items simply fulfilled expectations. Microsoft is coming from something of a weaker position next to Nintendo's (NTDOY.PK) Wii U and Sony's (NYSE:SNE) PlayStation 4, but with that it has lined up, it could build up more momentum going forward.
There were a few games on the blockbuster side of things. Call of Duty: Advanced Warfare looked as high-octane as ever, though its availability on the Xbox 360 as well as Sony's PS3 and PS4 may keep the Xbox One from benefitting as heavily as it might have with an exclusive title. The Fable franchise on Microsoft's consoles has been growing in popularity through the years, and the new, exclusive installment could be a hit for the Xbox One, but it doesn't seem likely to compare to the success of Sony exclusives like Uncharted: A Theif's End or PlayStation-heavy titles like Metal Gear Solid V: The Phantom Pain, especially with Sony's console advantage.
One big mention that could drive sales for the Xbox One was the Halo Master Chief Collection, which is a combination the content from the four main Halo games, remastered in high-quality. It will allow players to relive those older games in new light, while also mixing things up with multiplayer on any of the old stages, going from a Halo 1 map one round to a Halo 4 map the next. Campaigns and co-op will also be available. The weight of the Halo franchise is definitely important for Microsoft's console war success, but this may not be the ticket, considering it is still old games in a shiny wrapper. The release of Halo 5 will be a more sure-fire hit and pull for the Xbox One.
There are still some exclusive releases that may drive a lot of combined excitement. Super Ultra Dead Rising 3: Arcade Remix Hyper Edition EX Plus Alpha Prime is sure to turn a few eyes, as the exclusive DLC will feature a tremendous cohort of favored Capcom characters on top of its already tremendous name. The new Crackdown game could excite fans of the earlier games with the return to intense neon straight out of Tron. The trailer for Platinum Game's Scalebound looked impressive, albeit not in-game footage, but new IP can be a big draw for the young consoles. A new Gears of War game was also hinted at in a montage of game logos as Microsoft was finishing up — this would surely be of benefit to the Xbox One.
As Microsoft is bringing up the rear in the current gen console war, it has its work cut out for it to catch up. Sony is in the lead and appears set on keeping that lead with its quantity of consoles sold helping it get higher sales on the big cross-platform games like Watch Dogs. Plus it has some big exclusive titles lined up, and may win over gamer intrigue with Project Morpheus, its virtual reality endeavor.
Nintendo has shown itself weakening and could be losing grip on its lead over the Xbox One, but Mario Kart 8 recently showed that it still had the potential for both explosive game sales and consoles sales on par with either the PS4 or Xbox One, and it still the Super Smash Bros and a new Zelda game for Wii U to help it in the future.
If you're interested in what Microsoft is bring to the Xbox One, you can check out our earlier story on the best new games for the console. See that here: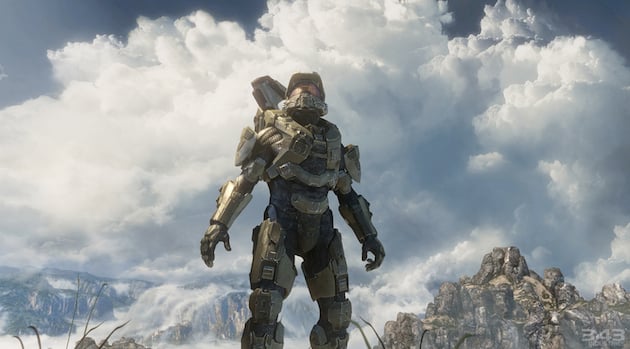 Microsoft's E3 press conference this year was a major improvement over its showing in 2013. Last year, gaming fans felt ignored by the company, which focused its presentation on the Xbox One's TV and entertainment capabilities instead of the, you know, games. This year, Microsoft course-corrected in a big way by showing nothing but games for nearly solid two hours. Some of the titles had already been announced, but some were complete surprises. Here are the best Xbox One exclusive games Microsoft showed off at its E3 presentation.
Halo Master Chief Collection
Fans are eagerly awaiting the fifth installment of the Halo franchise, but it's not going to arrive until next year. To make the wait a little less painful, on November 11 Microsoft will release a bundle of the four main Halo games for Xbox One, including 2011's revamped Anniversary Edition of Halo: Combat Evolved and a brand new Anniversary Edition of Halo 2. Better yet, the disc will include every Halo multiplayer map ever released, which adds up to more than 100 maps. All games will play in 1080p, at 60 frames-per-second, so it should look great. The package will also include access to Halo: Nightfall, a TV series that depicts the events leading up to Halo 5. All that for $60 sounds like a pretty sweet deal. Watch the trailer here.
Sunset Overdrive
This is an action game with a sense of humor — which stands out from the crowd of serious shooters like Call of Duty and Battlefield. In this game, developed by the makers of the Ratchet and Clank series, you run, jump, and slide through a colorful world filled with cartoonish mutants, whom you can dispatch using all kinds of crazy weaponry. Did we mention the eight-player Chaos Mode? This Xbox One exclusive looks like a lot of fun. Watch a gameplay demo here.

Fable: Legends
This latest installment in the long-running fantasy series puts a big focus on online cooperative gameplay. Up to four players can join forces to tackle objectives and take up arms against hordes of orcs and demons. Fable: Legends is scheduled to release by the end of the year, with a multiplayer beta coming this fall. Watch the trailer here.
New Crackdown
The original Crackdown, which came out back in 2007, was a crazy open-world shooter in which you played a super cop and took down gangs of criminals. The cool thing about it was that as you progressed through the game, your super powers grew, so you could eventually jump from the street onto the roofs of super-high buildings. There was no fall damage, either, so you could leap off the top of a skyscraper with no fear. It was a ton of fun, although the 2010 follow-up proved to be a letdown. The just-announced new Crackdown looks to make up for that lackluster sequel. It comes out in 2015, but you can watch the trailer here.
Scalebound
Scant information has been released about Scalebound, but the trailer made a big impression at Microsoft's E3 presentation. The video shows a character taking on absurdly large beasts in a forrest environment. At one point he puts on headphones to listen to some thumping electronic music and leaps high into the air, at which point his body becomes encased in scaly armor, and he plunges a sword into the beast's head. You can watch the epic trailer here.
Forza Horizon 2
A follow-up to the 2011 original, this sequel takes the realistic racing series to Southern Europe, where you'll speed through open-world environments that come complete with a day-night cycle and dynamic weather. One neat thing is that the game won't contain multiplayer lobbies like most racing games. Instead, you'll be able to create clubs with up to 1,000 friends (supposing you're that popular.) Forza Horizon 2 promises to offer the series' usual tight racing gameplay, and plenty of cars to collect. The game will release on September 30, but you can watch a gameplay demo here.
Follow Mark on Twitter @WallStMarkSheet
More From Wall St. Cheat Sheet: