Here Are the 9 Most Popular Messaging Apps in the World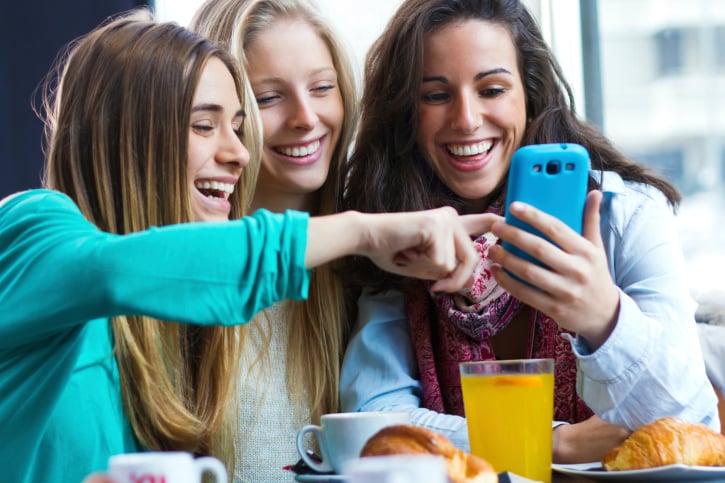 For a lot of people, the stock text messaging apps that come with their phone might be all they need to get by and communicate with the lot in their address book via text and pictures. The standard call feature might be all they need for talking, and Skype or FaceTime may satisfy their video-call needs. But for millions, and perhaps billions, these applications are not enough, either because of lack of features, weak integration, disagreeable style, or anything else a user can find unsatisfactory.
There are plenty of options out there for people who want to get past the limitations or shortcomings of the stock communication apps. Some simply replicate the features but with a slightly different style or better function. Others wrap different communication methods into one system, making it easy to switch from texting to calling to video chat. Still others attempt to offer a novel form of communication. Here, we'll take a look at the world's most popular over-the-top communication apps meant to cover for dull stock apps.

9. Kik
Kik is a messaging platform for iOS, Android, and Windows Phone. Unlike some of its competitors, it doesn't feature voice calls, which may be one of its greater shortcomings. Still, it does have the ability to message anyone, anywhere, as long as both users have Kik. One special feature it has is a built-in web browser, allowing more seamless sharing of web content with friends. It claims to be the first messenger app with such a feature.
Kik has been growing fast, as the company reported 50 million users in April of 2013 and 100 million users that same November. Now it claims to have 120 million users, though RW reports a base of 130 million registered users for the app. Whatever the case, the app is doing well for itself and likely to continue doing so. On Google Play, the app has a 4.5-star rating after over 839,000 votes.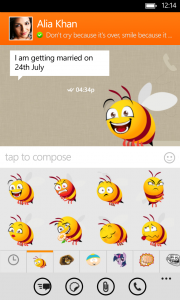 8. Nimbuzz
Founded in India, Nimbuzz is "available for every smartphone and feature phone" according to its app description on the Windows Phone app store, with support for Windows Phone, Windows, iOS, Mac OS, Android, BlackBerry, Symbian, and Java. On top of having text chat — with stickers — and high-definition voice calling, it also has chat rooms and an app-to-phone number calling service called NimbuzzOut.
What may be one of the more standout features of Nimbuzz — and an uncommon one — is the support for communicating through other messaging clients within the app. If you want to talk to Facebook friends or Google+ contacts, Nimbuzz is able to do that on top of communicating with other Nimbuzz users. With over 150 million users, it's a solid pick for the most popular messaging apps.
7. Tango
Tango follows in the same vein as the others on this list, offering an over-the-top messaging service that includes text messaging — also with stickers — voice calls, and video calls. The platform also offers a sort of news feed for sharing content with all of your friends, akin to Facebook, plus it has a feature for finding people you may know. To round it all out, it includes games that you can play with friends, in case conversation alone isn't quite cutting it.
Tango is available for iOS, Android, BlackBerry, Amazon devices, and Windows PC. It reports not only a large user base, but a fast growing one. In March of 2013, it had 100 million subscribed users, and one year later that amount had doubled. It also reports having 70 million monthly active users.
At this point, it may be useful to clarify the difference between some of these numbers. The number of subscribed users an app has shows how many people have downloaded and set up an account to use the app. Some people may choose not to use the app after that. The number of monthly active users shows how many people actually use the app each month. Unfortunately, not all apps make both types of information known and it can be impossible to get a perfect comparison. For that reason, some of these apps may actually rank differently depending on what aspect is compared, though they all can still be regarded as the most popular apps around.
6. Viber
Viber is a multi-platform app available for Windows, Windows Phone, Android, iOS, BlackBerry, Bada, and Nokia. It offers a simple communication through free text messages, photo messages, and calling as well as location sharing between Viber users over data connections. It also has a feature — like NimbuzzOut — for communicating with non-Viber users for a price through the ViberOut tool.
While Viber might not sound like it does much more than the stock suite of communication tools, the app claims, "Our sound quality is much better than a regular call," on its FAQ page. Also, the ability to have unlimited calls and messaging to anyone, anywhere in the world as long as they also have Viber is a standout feature — albeit one that is ubiquitous in these popular communication apps. Viber reports having 200 million users in 193 countries, and according to Kleiner Perkins Caufield & Byers's 2014 Internet Trends report, it had 100 million monthly active users in 2013, earning it a high spot on this list.
5. Snapchat
This is one most of you will probably have already, or at least have heard about. Snapchat is available for iOS and Android smartphones, but has limited specific version of the app for Android tablets, BlackBerry and Kindle devices, and Windows Phone are not available — though Snapchat is interested in knowing who wants support for what. This app is known for popularizing the ephemeral message, allowing users to send pictures, videos, and now even text messages that will disappear after a short amount of time. Another feature allows users to create a set of images that they share with everyone for a longer amount of time.
Though in its nature it may not be the best app for communicating, it offers a fun way to stay in touch with friends that's a bit different from most of the other popular apps. Though data isn't available on how many subscribed or active users are on Snapchat, KPCB's Internet Trends report claims that 1.2 billion messages are sent in Snapchat every day — that figure includes "snaps sent per day and number of stories viewed per day." More than 1.2 million users on Google Play have given it just over a 4-star rating, and the number of users that vote tends to be just a fraction of the actual number of users, so Snapchat could easily have over 100 million users if only 1 percent of users vote.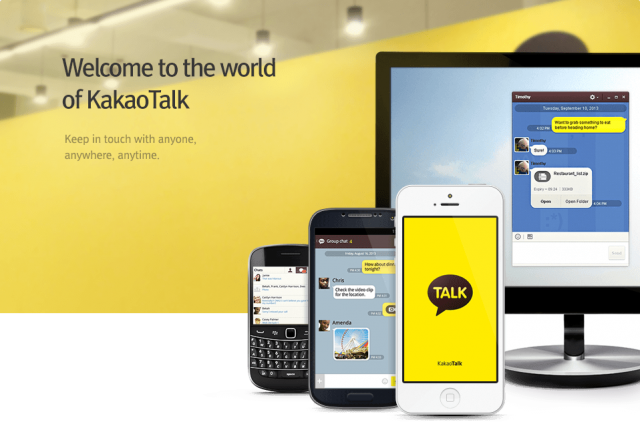 4. KakaoTalk
This Korean chat app takes messaging to the next level compared to Snapchat's 1.2 billion messages per day. KakaoTalk directed 5.2 billion messages per day in 2013, according to KPCB, and it's been growing. From 2012 to 2013, its traffic grew by 24 percent. On its Google Play page, it claims to have more than 130 million users.
The service is widely available, running on iOS, Mac OS, Windows Phone, Windows, BlackBerry, Bada, and Asha. It offers a lot of what others do with free chat — again, with stickers, except these ones are animated — voice calls, and video calls. It also has a system to help people schedule events and vote on plans. It even includes games. Its quality stands up against critics, as more than 1.6 million users on Google have given it an average rating of 4.5 stars.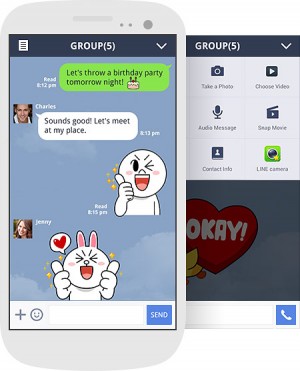 3. Line
Once again, this is a communication app that offers all the typical accouterments of such an app. It has its video calls, its got the voice calls, and it has the text messaging, boasting over 10,000 stickers to round out the experience with thoroughly enjoyable characters display every conceivable emotion. The app also links to games connected games — often featuring the popular sticker characters — so users can enjoy more with their contacts. With the "Shake It" feature and QR codes, it's also simple to add friends that aren't already in your contacts. Like some others, it also has a newsfeed for easily updating everyone all at once.
Starting in Japan and growing out to the rest of the world, Line has proved an incredibly popular communication app. It's available on iOS, Android, BlackBerry, Windows Phone, Asha, Firefox OS, Windows, and Mac OS — though some available services differ depending on operating system. It claims over 440 million users in 231 countries on it's Google Play page and KPCB reports it had 280 million monthly active users in 2013 sending 10 billion messages per day. Over 3.1 million Android users have given it just over a 4-star rating.
Disclaimer: I have used Line for just over 2 years now and vouch for it to my friends left and right. Not that it matters, since this ranking is based on stats, not personal taste.
2. WeChat
It only makes sense that one of the biggest mobile communication apps in the world would be born from the biggest mobile market in the world — China. TenCent's WeChat had 355 million monthly active users in 2013 according to KPCB. In it's 2014 first-quarter earnings reports, TenCent reported that WeChat and Weixin — the Chinese version of the app — had 396 million monthly active users, which amounted to an 87 percent increase year on year, proving the still growing popularity of the app.
WeChat is available for iOS, Mac OS, Android, Windows Phone, Nokia (S40 and Symbian), BlackBerry (OS 5.0, 6.0, and BB10), as well as through a browser. The app has chat and video calls that function like the others, though its voice chat is particularly different. Instead of having a constantly streaming conversation, you send short voice messages — definitely helpful if you have a limited data plan. Like Line, it has a shake feature for easily connecting with new contacts. It also has a GPS-based friend finder for meeting new people nearby. Also, similar to Nimbuzz, it has the ability to connect to Facebook.

1. WhatsApp
Apart from being the most popular app on this list, it may also be the most notorious. For one, its acquisition by Facebook for $16 billion drew a lot of attention. Also, WhatsApp has done something the others haven't: stopped being free. Though it's free for the first year, it goes up to 99 cents per year after that. The app is available for Android smartphones, iOS, BlackBerry, Nokia (S40 and Symbian), and Windows Phone. Oddly, WhatsApp suffers from the same shortcoming as Kik — a lack of voice calling — though it does have voice messages. It's gained great popularity as a chat app that functionally replaces SMS, while also being able to send group messages, pictures and videos, as well as GPS coordinates.
WhatsApp knocks it out of the park in terms of usership. KPCB reported 400 million monthly active users and 50 billion messages per day for the app in 2013. RW suggested 450 million registered users, and WhatsApp claims to have passed 500 million at the end of April in a blog post, adding that 700 million photos and 100 million videos are sent everyday, not to mention all the chat messages. On Google Play, the app has over 13.2 million votes giving it just shy of a 5-star rating.
If you're looking to communicate with your friends with apps that have a little more to offer than the standard communication suite that came with your phone, look no further than these highly popular apps. You likely already have friends using them.
(This ranking is based on data compiled from the app makers, Kleiner Perkins Caufield & Byers's 2014 Internet Trends report, and RW.)
If you liked this story, follow me on Twitter to get more like it.
More From Wall St. Cheat Sheet: