Here Is Sony's Plan to Bring the PlayStation to China
Back in January, China ended a 14-year ban on foreign companies selling video game consoles in the country. That was good news for Sony (NYSE:SNE), Microsoft (NASDAQ:MSFT), and Nintendo (NTDOY.PK), as China is a huge potential market, with nearly half a billion gamers and revenues of almost $14 billion. So far, Microsoft and Nintendo have announced plans to sell consoles in China, but Sony had been silent on the issue — until today. Sony has just revealed that it will set up two joint ventures with Shanghai Oriental Pearl Group to sell PlayStation hardware and software.
Although the Chinese government has loosened the rules to allow foreign game makers to sell their wares in the populous country, they're not making it easy. Each company wishing to do so has to partner with a Chinese company and operate out of the Shanghai free trade zone. Microsoft is working with BesTV New Media and plans to release the Xbox One in China this September. Nintendo hasn't detailed its plans, but says it will make new hardware to sell in China.
Sony will partner with Shanghai Oriental Pearl Culture Development Ltd., but has yet to reveal when its products will hit the shelves in China. In fact, Sony hasn't even announced which hardware it will release in China, although it will likely include the PlayStation 4 to compete against Microsoft's Xbox One.
Despite the country's sizable gaming market, the New York Times says that selling consoles in China could prove more challenging than in the other game markets of the world, like Japan, the United States, and Europe. In part that's because Chinese gamers have spent the past 14 years playing games on PCs and mobile devices, so there's no "console culture" like there is elsewhere in the world.
Chinese gamers have also grown accustomed to the "free-to-play" model, in which publishers let anyone download their games for free, but charge money for in-game power-ups or extra content. The free-to-play model has begun taking root in mobile and PC gaming in the U.S., but has yet to make much of an impact on consoles.
Another issue that may prove problematic for all console makers entering the Chinese market is the content of games. The Chinese government has issued a long list of rules and guidelines games must honor to be sold in the country. The list bans things like violence, obscenity, drug use, and gambling. Since many major game releases for consoles center on topics like crime and war — and often feature graphic violence and mature language — the number of games allowed to be sold in China may be quite limited.
On the other hand, when Nintendo throws its hat in the ring, as it has said it would do, it may fare better than Sony or Microsoft. Nintendo is known for its family-friendly series like Mario and Pokémon, while Microsoft and Sony tend to focus on M-rated games like Gears of war and The Last of Us.
Regardless, the New York Time reports that, "One of the ventures will have registered capital of 10 million renminbi, or $1.6 million, and will be 51 percent owned by Shanghai Oriental Pearl Culture Development and 49 percent owned by Sony's China operation, Shanghai Oriental Pearl… The other venture will have registered capital of 43.8 million renminbi and will be 30 percent owned by Shanghai Oriental Pearl Culture Development and 70 percent owned by Sony in China."
In any case, this generation's console war — which Sony has been winning so far — is about to get even more interesting.
The console war has been raging on since late last year, and China may play a big part in the shape of its future. If you're interested in how it's been going to far, you can see the latest in our earlier article here.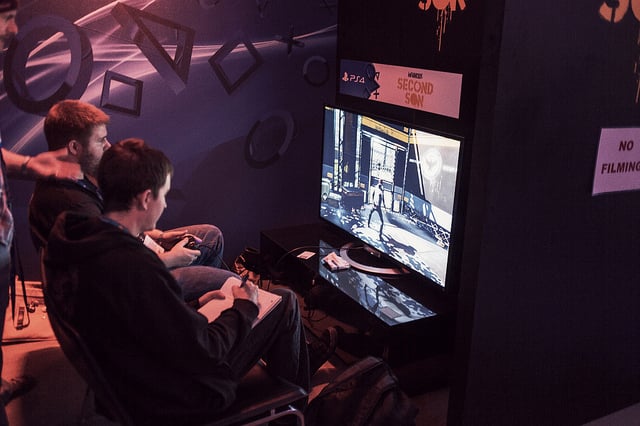 March was a solid month for Sony when it came to the ever-broiling competition it has with Microsoft in the video game console market. Sony took the cake in the four full weeks that month with 655,518 PlayStation 4 units sold compared to Microsoft's 433,940 Xbox One units, and even Nintendo's 154,227 Wii U consoles sold — the PS4 beat both combined. Now it's clear that Sony isn't letting up.
Though nothing stood out as a major boon for Sony in the four mostly full weeks of April quite like Titanfall did for the Xbox One in March, it still managed to come out ahead of the Xbox One in a number of ways. The hit action game inFAMOUS: Second Son was the biggest single contributor to the PS4′s success in April, as it was the top selling title for the PS4 three out of the four weeks in April, according to data from VGChartz, only taking a second seat during the week ended April 19 to make way for Final Fantasy XIV: A Realm Reborn.
For the Xbox One, Titanfall was the game it had to bank on, even though it was already in its fourth week during the first week of April. During all of April, Titanfall was the top selling video game for the Xbox One. But one hefty blockbuster title didn't prove strong enough. Sony's spread of game titles proved more compelling to buyers, just as it did back in March when it sold 2.49 million games for the Ps4 compared t the 2.06 million games sold for the Xbox One.
To put it simply, for all of April, the PS4 took the cake and didn't share any of it. Hardware sales during the four weeks that month totaled 579,850 units globally, according to VGChartz's data, and each of the four weeks saw higher PS4 sales than any other console. The Xbox One didn't even take second to the PS4 as it had 335,101 total sales during the month, falling behind Nintendo's 3DS and its 428,891 sales.
What's particularly damning for the Microsoft console is that the disparity in sales between it and the PS4 has only gotten bigger, even with the help of Titanfall added into the mix. At the end of March, the PS4 had a global lead of 2.69 million units sold over the Xbox One. At the end of April, that lead had grown by about a quarter of a million units to 2.93 million units sold.
Of course, it's worth noting that Sony has something of a foreign advantage, as the Xbox One is still not available in Japan, while that's the home turf of the PS4. However, taking this factor out of the mix doesn't change the story. Only looking at sales in the U.S., Sony had a lead of 310,846 units over the Xbox One at the end of March, and that grew to a lead of 323,839 units sold at the end of April.
Things don't look like they'll get too much better in the future either, as pre-orders in the U.S. for two of the biggest blockbusters this year — Ubisoft's Watch Dogs and Activision's Destiny — both have higher numbers of people pre-ordering on the PS4 than on the Xbox One.
Follow Mark on Twitter @WallStMarkSheet
More from Wall St. Cheat Sheet: