Here's a Brand New Carrier For Apple and 2 Other Tech Titans Making Noise
Microsoft (NASDAQ:MSFT): A Spanish association that represents open-source software users filed a complaint against Microsoft to the European Commission, which creates a new challenge to the Windows developer after a hefty fine earlier this month, Reuters stated. The 8,000 member-strong Hispalinux represents users and developers of the Linux operating system in Spain, and it said Microsoft made it difficult for users of computers sold with its Windows 8 platform to switch to Linux or other operating systems. Lawyer and Hispalinux leader Jose Maria Lancho stated that he delivered the complaint to the Madrid office of the European Commission on Tuesday. In the complaint, Hispalinux accused Windows 8 of containing an "obstruction mechanism" called UEFI Secure Boot controlling the start-up of the computer, and this suggests that users will need to seek keys from Microsoft to install another operating system.

Google (NASDAQ:GOOG): A Microsoft consultant questioned how impartial Google's search results as European Union regulators try to end an antitrust probe of the operator of the world's biggest search engine, Bloomberg reports. It is possible for Internet traffic to be diverted by manipulating the order of search results, stated Susan Athey, a professor of economics at Stanford University's Graduate School of Business and a Microsoft consultant, via a blog post on Microsoft's website. Generally, when a site is moved from the first position to the 10th position in a series of search results, it generally loses about 85 percent of its traffic, she stated. "Impartiality of search results will become all the more important in the years to come, given that screen sizes on smartphones and tablets are smaller than on traditional PCs," Athey said. "Smaller screens mean there is even less room for competing services to appear in Google's mobile search."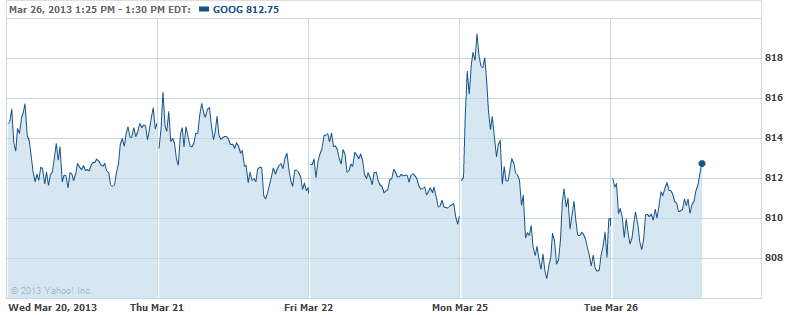 Apple (NASDAQ:AAPL): Deutsche Telekom's T-Mobile USA revealed its plan to offer Apple's iPhone 5 to qualified customers for about $580, which will be payable with $99.99 down and monthly payments of $20 for two years. The iPhone 5 is to be made available to T-Mobile customers on April 12, and on Monday it revealed its plans to drop smartphone subsidies. This is the first major carrier in the U.S. to make this move, and T-Mobile's price for an iPhone 5 is about $70 cheaper than the $650 price for a model without carrier support. The iPhone 5 costs about $200 with a two-year contract at most other major U.S. carriers.

Investing Insights: The Problem With Apple.