Here's a Twist: Did Mobile Phone Sales Really Drop in 2012?
For the first time since 2009, worldwide sales of mobile phones dropped last year.
Research firm Gartner said Wednesday that mobile sales to end users — consumers who actually use the product — declined by 1.7 percent to 1.75 billion units, year over year. Anshul Gupta, the firm's principal research analyst, attributed last year's weaker worldwide mobile phone market to "tough economic conditions, shifting consumer preferences, and intense market competition."
However, the results were uneven. Sales of smartphones did not take the same hit as their cheaper feature phone counterparts. In fact, sales of smartphones, a category dominated by Apple (NASDAQ:AAPL) and Samsung (SSNLF.PK), continued to push upward; higher-end devices accounted for more than half the market for the first time in 2012. The South Korea-based Samsung sold 385 million phones in 2012, of which 53.5 percent were smartphones, and Apple sold 130 million smartphones.
Those two companies were responsible for 52 percent of all smartphone sales in the fourth quarter, an increase from 46 percent in the previous quarter. In that three-month period, Samsung sales accelerated, leaving Apple behind; the company unloaded 64.5 million units, up 85.3 percent from the fourth quarter of 2011. Apple sales only reached 43.5 million units, an increase of 22.6 percent, year over year…
That those two companies grabbed the top two spots is hardly surprising, but the Chinese company Huawei unexpectedly came in third in worldwide smartphone sales for the first time, with 27.2 million units sold in 2012, an increase of 74 percent. Yet Huawei's positioning is less secure than its two rivals; as Gupta said in the research firm's report, no manufacturer can firmly lay claim to the number three spot in global smartphone sales.
"The success of Apple and Samsung is based on the strength of their brands as much as their actual products," he added. "Their direct competitors, including those with comparable products, struggle to achieve the same brand appreciation among consumers, who, in a tough economic environment, go for cheaper products over brand."
With its market share falling to the lowest level it has ever been, Nokia (NYSE:NOK) was in no position to challenge Huawei. While its fourth-quarter sales improved because of a solid response to its Asha mobile phones and the launch of the latest Lumia Windows Phone 8 models, they were not enough to reverse the Finnish company's falling fortunes. In all of 2012, Nokia sold only 39.3 million smartphones, a decrease of 53.6 percent from 2011.
Compared to the rising sales of smartphones, feature phones sold just 264.4 million units in the fourth quarter of 2012, a decrease of 19.3 percent, year over year. That trend is expected to continue; Gartner expects that worldwide sales of smartphones in 2013 will grow to approximately 1 billion, while overall mobile phone sales to end users will jump to 1.9 billion units…
Smartphone domination in 2013 is expected to be led by Samsung. The company's resources and broad market reach makes it difficult for competitors to keep up, although competition from Sony (NYSE:SNE) and Nokia is expected to rise.
"With Samsung commanding over 42.5 percent of the Android market globally, and the next vendor at just 6 percent share, the Android brand is being overshadowed by Samsung's brand with the Galaxy name nearly a synonym for Android phones in consumers' mind share," said Gupta, referring to the Google-designed (NASDAQ:GOOG) mobile device operating system.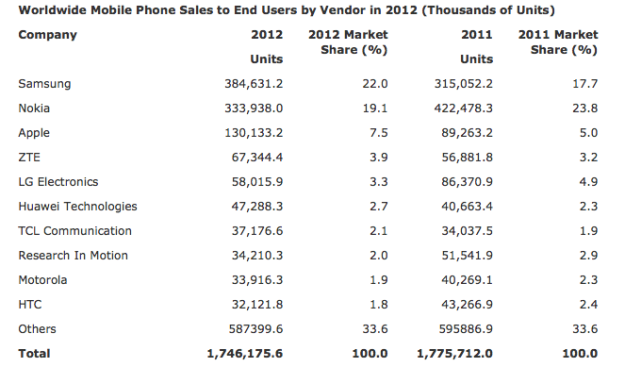 (Source: Gartner)
Don't Miss: Tim Cook: Apple Stores Are Like Prozac.+