Here's Facebook's Difficult Mobile Advertising Tango
Investors and analysts are looking closely at Facebook's (NASDAQ:FB) fourth-quarter results to determine whether the problems of its business model, the very ones that helped deflate its stock market debut, have been put aside. Even though the company's stock has soared more than 60 percent since November and its third-quarter earnings report showed that the company was beginning to make money in the all-important mobile arena, its stock has yet to return to its initial offering price of $38 per share. The social network's chief executive Mark Zuckerberg would have the company's critics believe that mobile is not a problem, but is that really the case?
"Today, there's no argument. Facebook is a mobile company," said Zuckerberg during the earnings conference call, referencing a comScore study that showed the Facebook app accounts for 23 percent of all time spent on apps, and recent acquisition Instagram ties for second at 3 percent.
Mobile is where technology is headed and advertising is the primary way Facebook makes money. However, it is important to remember that Facebook mobile is far different than the desktop version. The difference is not just screen size and portability — mobile advertising makes less money than ads displayed on laptops and desktops because it's harder to grab a user's attention on the small screen.
In the last quarter, the company generated 14 percent of its revenue from mobile advertising. This quarter that number jumped to 23 percent, or $306 million. This increase showed that Facebook has made mobile a priority, but its mobile revenue growth was not significant enough to satisfy investors or analysts. Shares of the social network dropped seven percent when the earnings report was released after the bell on Wednesday, and at 6:30 p.m. Eastern Standard Time, following the earnings call, the stock was trading down 3.65 percent at $31.24 per share…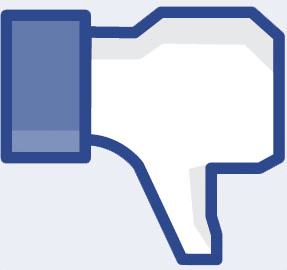 Oppenheimer & Co analyst Jason Helfstein said the falling stock price was due to "lower-than-expected mobile revenues." Analysts from JPMorgan Chase had predicted mobile revenue earnings of $384.2 million, according to Bloomberg.
The social network has a long hike upward before it can edge Google (NASDAQ:GOOG) out for the top spot in mobile display advertising, although it is trying. According to a December report released by the advertising analysis firm eMarketer, Facebook took an estimated 12 percent of the mobile display market in 2012, a share worth $339.3 million compared to Google's $2 billion share.
Not only were the company's mobile revenues lower-than-expected, they were too expensive. Facebook's efforts to launch new advertising services – including those aimed at mobile – had a cost. As a far distant second in mobile advertising, Facebook has struggled to beat its investors' expectations and the competition. But its increased focus on advertising contributed to a 79 percent fall in net income, which shrank to $64 million as operating expenses jumped 82 percent. That growth outpaced the company's 40 percent revenue gain. Some of the additional expenses came from investments in new products that will keep users on the site longer – and therefore have them see more ads.
"More mobile revenue means way more spending on the operations of selling ads," said Pivotal Research Group analyst Brian Wieser to the publication. "This is an expensive company to run."
Don't Miss: Live Wrap: Will Facebook's Fourth-Quarter Results Keep the Bears Away?