Here's How Apple is Helping Parents Save Money
In light of a recent lawsuit over its in-app purchasing system, Apple (NASDAQ:AAPL) has made a relatively minor — albeit significant — adjustment to its app store.
Now, if a user were to download a "freemium" app — one that is free to download, but has in-app purchasing abilities within the program — there is a small warning beneath the app icon inside Apple's app store that reads "Offers In-App Purchases."
The move is a direct result of a class-action suit that was brought against the company, which has called attention to situations where children are running up enormous bills on their parents' devices from in-app purchases. Some of the horror stories, relayed by The Guardian, include one British boy who spent 1,700 pounds (almost $2600) playing Zombies vs Ninja, and another who bought 980 pounds (about $1,485) worth of virtual donuts in The Simpsons: Tapped Out. In both cases, Apple refunded the parents, the Guardian reported.
Here's how Apple finished trading on Tuesday: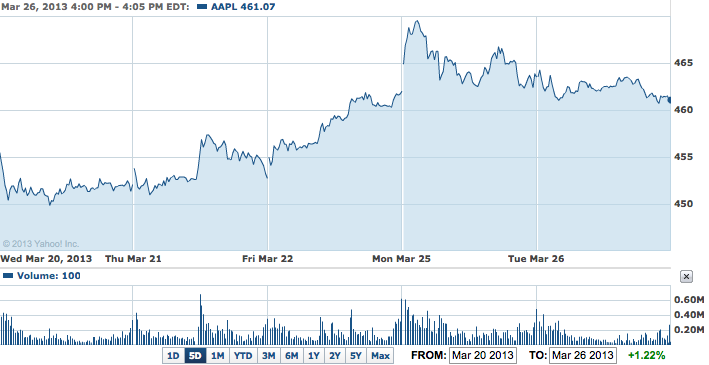 Read more…
The debate has been rather heated. On one side are the parents, who are understandably peeved about finding inordinate amounts of charges and fees on their bills (imagine, almost $1500 worth of donuts, and they're not even real). On the other hand is Apple, and its supporters who say that parents must be more careful when giving a credit card-enabled device to a child also raise a very valid point.
Ideally, the two parties would find a compromise in the middle, which is what the new warning put in place by Apple could hint at. Maybe instead of blaming the company entirely for purchases made by their children, the parents take more responsibility for controlling the content that the children have access to, and Apple were to put more safeguards in place (stronger password protection? 'Child-Safe' mode?).
The existing system requires a password initially, and for a certain period of time the user can download content without re-inputing the password every time. This setting can be adjusted, but its unlikely that the majority of people finding themselves in this situation realize so.
Don't Miss: Is The iPhone Coming to T-Mobile?