Here's How Apple Pulled Off the Record Deal Without a Hitch
Last week Apple (NASDAQ:AAPL) took the first step in acquiring debt to fund its unprecedented $100 billion shareholder capital return plan. Although Apple's record-setting $17 billion bond offering went off as planned, the unusually large size of the deal was not without its challenges.
One of these challenges was maintaining the desirability of the bonds rarity value. After all, analysts have been discussing Apple's need for up to $55 billion in funding over the next three years. In the interest of boosting its bonds rarity value, Apple announced that this would be the only deal of its kind this year. The Cupertino-based company also declared that it wouldn't venture into other currencies to establish similar deals.
Another obstacle to executing the bond offering was Apple's worldwide fame, which made it difficult to conduct a deal of this magnitude in secrecy. Some commentators speculate that this may have been one of the primary reasons that Goldman Sachs (NYSE:GS) was the only bank to assist in the process until Deutsche Bank was tapped in April.
Erich Mauff, who is Deutsche Bank's head of capital markets and treasury solutions in North America, stated via CNBC that "ultimately, if you're going to do a deal very quickly and very confidentially, this is the way to do it."
Despite the overwhelming demand for the shorter tranches, Apple was able to make the longer tranches more desirable by squeezing the pricing on the short-dated bonds. Apple simultaneously made the long-dated bonds more attractive by issuing its 30-year debt with an annual yield of 3.85 percent. Apple also issued debt of $5.5 billion in the 2.4 percent 10-year tranche.
Not only was Apple able to acquire the funds it needed for its capital return plan, it was also able to successfully execute a rather tricky financial maneuver by completing the deal in one day without any technical difficulties. The leading firms that handled the deal also managed to accurately price the offering as proven by the after-market sales which caused the tranches to contract by only a few basis points. Overall, the six tranches of the deal attracted a record $50.2 billion in orders.
Here's how Apple has traded so far this week.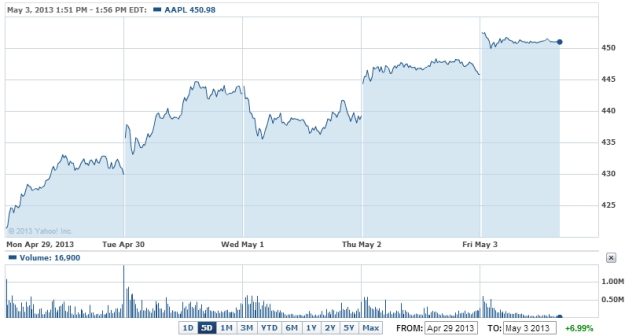 Don't Miss: Another Carrier Jumps on the Apple Bandwagon.