Here's How Apple Went From Junk To Bond Champion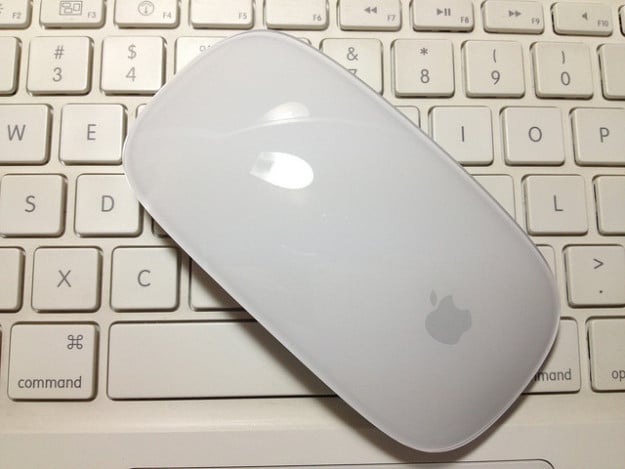 Last week, in anticipation of Apple's (NASDAQ:AAPL) venture into the debt arena, Moody's Investors Services and Standard and Poor's Ratings Service offered their investment grade ratings on the Cupertino-based company's bonds. Moody's gave an Aa1 rating on its senior unsecured debt and S&P gave a comparable AA+. Although Apple received a slightly less than perfect credit rating from both Moody's and S&P, it was definitely much higher than what the tech giant has historically gotten.
Back in the company's financial doldrums of 1997, it was unceremoniously given a junk rating by Moody's, based on its poor growth prospects due to "increasing business and financial risk" in the "Wintel-dominated personal computer industry." In February of 1997, Moody's downgraded Apple's long-term debt rating from senior unsecured B1 to B3. Back then, the company was still known as Apple Computer Inc., and it had a paltry $1.8 billion in cash and short-term investments, with $1.1 billion in total outstanding debt.
Interestingly enough, Moody's recently granted Apple the second-best rating of Aa1, based on the same logic that led it to reduce its 1997 rating from B1 to B3. According to Moody's website, "the steady erosion of Apple's market share in recent years in the Windows-dominated personal computer industry — caused by aggressive competition by other PC hardware manufacturers and substantial improvements in the Windows operating system — has significantly increased business risk at Apple and has reduced the predictability of future operating results."
Regarding its refusal to give Apple the highest credit rating of Aaa last week, Moody's points to the "inherent long-run risks for any company with high exposure to shifting consumer preferences in the rapidly evolving technology and wireless communications sectors." As a cutting-edge technology company, Moody's sees Apple as particularly vulnerable to "transformational changes that can lead to shifts in market leadership." Fitch, the international credit rating agency, has suggested it would rate Apple even lower.
Ironically, "transformational changes" seem to be Apple's curse and blessing when it comes to securing a favorable debt rating. In 1997 Moody's cited Windows' dominance of the personal computer industry as evidence of Apple's weakened market position. Now that the PC market is slipping out of Microsoft's (NASDAQ:MSFT) grasp, Moody's still views Apple's business of technology as inherently unstable.
Via LearnBonds, Moody's describes the "highly competitive and rapidly evolving market conditions and Apple's earnings vulnerability to a potential delay in, or modest success of, new product introductions" as reasons for its second-best debt rating. This is also despite Apple's substantial cash reserves which have topped $145 billion. Although Apple's recent bond deal will help to fund a $100 billion program that will return some of this cash to Apple shareholders, the California-based company still has an enviable cash position.
Perhaps there should be another standard for debt ratings when your business is delivering cutting-edge products in a "highly competitive and rapidly evolving market." After all, if Moody's believed that Apple would "continue to lose market share to Windows-based PC manufacturers" in 1997, what makes its rating judgment any less inaccurate today? In this sense, it may be the ratings service that is having difficulty keeping up with the rapid changes, not Apple.
However, the final word may come from the actions of the market itself. Last week, triple-A-rated Microsoft sold corporate bonds that mature in 10 years at an annual yield of 2.413 percent. Apple, with its lower credit rating, sold its 10-year corporate bonds with a nearly identical annual yield of 2.415 percent.
The chart below shows Apple stock movement so far this week.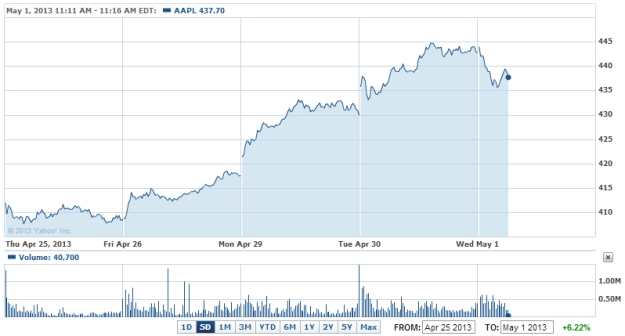 Don't Miss: Does Apple Think Your iPhone Is Vintage?