Here's How Apple's Making China a Top Priority
Is Apple (NASDAQ:AAPL) greasing the wheels for a major push into the Chinese market? Although Apple products are already quite popular with Chinese consumers, it appears that Apple is making even more of an effort to secure a strong presence in the Chinese market. Earlier this week, Apple unveiled a new Chinese Support Communities forum reports Apple Insider. Now Chinese Apple users will be able to offer advice to one another in their native language.
A day after the introduction of the Chinese Support Communities forum, Apple sent an email to content creators that espouses Apple's content localization philosophy. As stated in the letter via Apple Insider, Apple asks developers to "highlight the fact that your app is localized" and create apps in local languages so it is "easier to reach customers throughout the world."
It appears that Apple's letter to developers promoting local language apps and the debut of a Chinese Support Communities forum are part of a larger effort to establish a significant foothold in China's growing market. China, which has the second largest economy in the world, has become increasingly important to Apple's future.
According to The Wall Street Journal, 13 percent of Apple's total sales come from the Greater China market, which includes Taiwan and Hong Kong. Apple's total sales in the region reached $6.83 billion for the quarter ending December 29…
Apple recently settled a warranty controversy in China with a well-received apology. On Monday, April 1, Apple posted an apology on its Chinese website that was signed by Apple CEO Tim Cook, who said, "We are aware that a lack of communications…led to the perception that Apple is arrogant and doesn't care or attach enough importance to consumer feedback. We express our sincere apologies for any concerns or misunderstandings this gave consumers."
The statement was a response to a number of smear campaigns by the Chinese communist party through its People's Daily newspaper and the state-run China Central Television. The campaigns called Apple out on discriminatory customer service practices in China, and later slammed Apple for not responding appropriately to the accusations.
Apple shares are down $2.26, or 0.52 percent, at $432.07 in early Friday morning trading.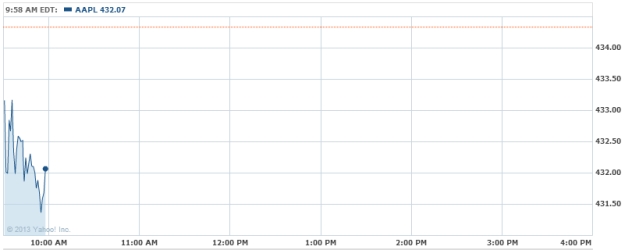 Don't Miss: Apple Pays for Warranty Mistakes.