Here's How Elon Musk Would Design Public Transportation Systems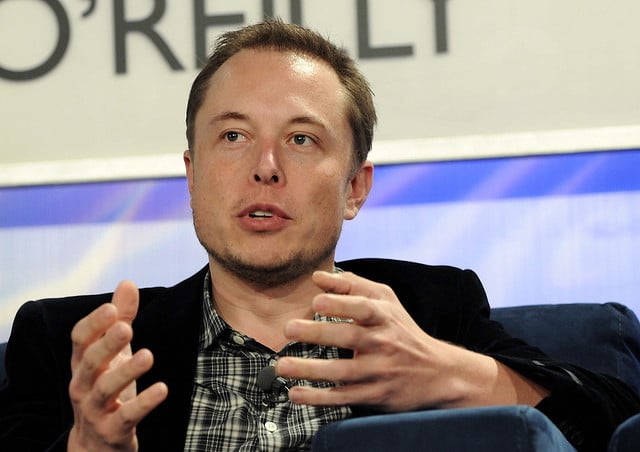 Elon Musk — the mastermind behind PayPal, electronic vehicle manufacturer Tesla (NASDAQ:TSLA), and rocket maker SpaceX — said during Tesla's second-quarter earnings conference call last week that his agenda was too full to fit in the Hyperloop, a system that would revolutionize the public transportation system.
"I don't have any plan to execute [the Hyperloop], because I must remain focused on SpaceX and Tesla," the CEO said, adding that he feels that he "kind of shot" himself in the foot by "mentioning [the] Hyperloop." But he did promise to release "quite a detailed design" Monday, tacking on an invitation for "critical feedback" to "see if the people can find ways to improve it."
Musk did just that. Close to a year after first mentioning the idea of a new, superfast means of transportation, the entrepreneur has finally outlined what he argues is a transportation middle ground.
Here is how he introduced the Hyperloop system:
"When the California 'high speed' rail was approved, I was quite disappointed, as I know many others were too. How could it be that the home of Silicon Valley and JPL — doing incredible things like indexing all the world's knowledge and putting rovers on Mars — would build a bullet train that is both one of the most expensive per mile and one of the slowest in the world? Note, I am hedging my statement slightly by saying "one of". The head of the California high speed rail project called me to complain that it wasn't the very slowest bullet train nor the very most expensive per mile."
California's bullet train will cost an estimated $70 billion.
To solve the problem of connecting two high-traffic cities — San Francisco and Los Angeles — in a highly populated state, Musk envisioned a solar-powered, elevated system that would allow passengers and cars to travel the approximately 380 miles in just 30 minutes.
Both cars and people would be shuttled in aluminum pods enclosed inside steel tubes, where an air cushion would levitate the pods. Magnets located on the pod's skis, combined with an electromagnetic pulse, will gave the pod its initial thrust. Then, the warm air inside the tubes and high tailwinds will enable the pods to travel at high speeds without crossing the sound barrier.
In an interview with Bloomberg Businessweek, Musk described the design as "looking like a shotgun with the tubes running side by side for most of the journey and closing the loop at either end." The tubes will be mounted on columns spaced 50 to 100 yards apart, and the pods inside could move at speeds up to 800 miles per hour. The result will be a transportation system four times as fast as California's proposed high speed rail and one-tenth the cost.
The safe traveling distance between pods is about 5 miles, meaning 70 pods could be en route between Los Angeles and San Francisco at any given time, with one pod leaving every 30 seconds. "It's like getting a ride on Space Mountain at Disneyland," he told Bloomberg.
The Tesla CEO has built his career on refining and revolutionizing industries he sees as inefficient or uninspiring. He co-founded PayPal in an effort to shake up the banking industry, then moved on to eBay (NASDAQ:EBAY) and finally Tesla, which manufactures the highest-performing, highest-rated all-electric vehicle.
Now, his focus is on transportation and California's proposed $70 billion high-speed train. Musk estimates the Hyperloop could be built for $6 million with people-only pods, or $10 billion for larger pods to transport both people and cars.
If California is to make a massive investment in a new transportation system, Musk said in a blog post published Monday, than the "return should by rights be equally massive." He believes that such a transportation system should be safer, faster, lower-cost, more convenient, immune to weather, sustainably self-powering, resistant to earthquakes, and not disruptive to residents living along the route.
One of the biggest potential problems the California rail system is facing is what Musk calls the "land mess," and the Hyperloop solves that problem too: because the Hyperloop is elevated, farmers would not lose land to railroad tracks.
Even better for the rider, Musk imagines that traveling via the Hyperloop would be enjoyable. "It would have less lateral acceleration — which is what tends to make people feel motion sick — than a subway ride, as the pod banks against the tube like an airplane," he said during his Bloomberg Businessweek interview. "Unlike an airplane, it is not subject to turbulence, so there are no sudden movements. It would feel supersmooth."
There is a limit to how far the tube system can extend, though. "Over 1,000 miles, the tube cost starts to become prohibitive, and you don't want tubes every which way," he told the publication. "You don't want to live in Tube Land."
As he indicated in last week's conference call, Musk does not currently plan to commercialize the Hyperloop technology. "I'm just putting this out there as an open source design," he said to Bloomberg. "There are sure to be suggestions out there for making this better, correcting any mistakes, and refining the design."
Follow Meghan on Twitter @MFoley_WSCS
Don't Miss: Elon Musk's Next Chapter: The Hyperloop.