Here's How Yahoo is Making Shareholders Happy
Yahoo! (NASDAQ:YHOO) does not appear to be suffering from a post-Thanksgiving hangover. Shares of the Internet company were one of the best performers in the market on Monday, after receiving an upgrade from Goldman Sachs (NYSE:GS).
How High Can Yahoo Climb?
Analyst Heath Terry added the Marissa Mayer-led company to Goldman's Conviction Buy List and raised its price target to $24 per share from $22.
In a research note, Terry explains, "With capital allocation actions serving as a catalyst to drive a revaluation in the stock, we believe the value of Yahoo's balance sheet assets and the core business are worth more than the current stock price. In our opinion, this revaluation, along with recent clarity on the turnaround and channel checks signaling effective management of the organization's structure, investments and finances, creates a very attractive risk/reward scenario, particularly given the early reaction in the stock to the buyback and the roughly 75 percent of the buyback that still remains."
What is the Value to Shareholders?
Shares of Yahoo popped more than 2 percent on the Goldman upgrade. Year-to-date, the stock price has gained about 17 percent, outperforming other tech names such as Microsoft (NASDAQ:MSFT), Google (NASDAQ:GOOG) and Facebook (NASDAQ:FB). Aside from short-term capital appreciation, Yahoo has been adding value to shareholders through buybacks. Terry also points out that Yahoo has repurchased 54 million shares this year for $860 million. Furthermore, the company is scheduled to buyback another $2.8 billion, using cash received from Alibaba deal.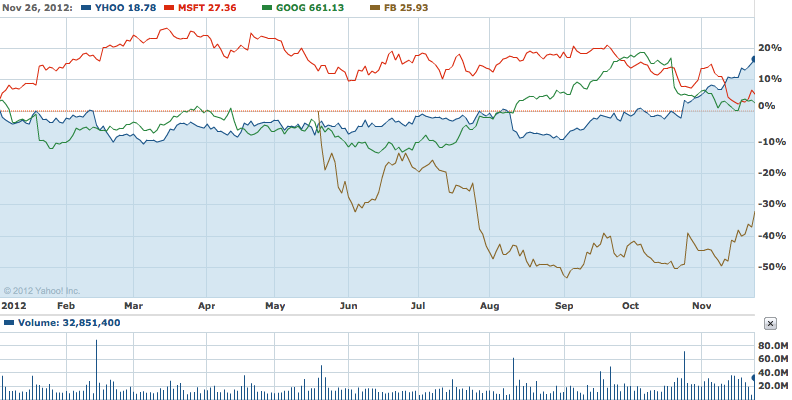 CHEAT SHEET Analysis: Does Yahoo Have Another "Catalyst for Stock Movement?"
One of the core components of our CHEAT SHEET Investing Framework focuses on catalysts that will move a company's stock. Short-term gains feel good, but many investors care more about the bigger picture. The current handling of capital allocation at Yahoo has been very positive for the company. Longer-term, investors and analysts appear to be gaining confidence in chief executive officer Marissa Mayer and her ability to bring excitement back to Yahoo.
Investor Insight: Apple Becomes Bigger Part of Thanksgiving Feast