Here's What Apple's SIM Card Innovation Means for New iPad Owners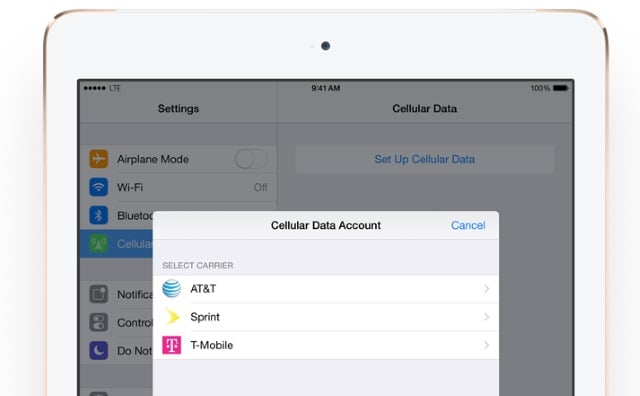 When Apple unveiled its next-generation iPad models at its recent media event in Cupertino, Calif., company executives touted both new devices' Touch ID sensors and the iPad Air 2's beefed-up A8X processor and faster 802.11ac Wi-Fi connection. However, one of the most revolutionary features of the new iPad Air 2 model was not even mentioned by presenters at the event. The flagship Wi-Fi and cellular-enabled iPad Air 2 model now includes a new Apple SIM card that allows users to easily switch between participating carriers with no long-term commitment.
"The Apple SIM gives you the flexibility to choose from a variety of short-term plans from select carriers in the U.S. and UK right on your iPad," stated Apple on its website.  "So whenever you need it, you can choose the plan that works best for you — with no long-term commitments. And when you travel, you may also be able to choose a data plan from a local carrier for the duration of your trip."
As noted by Apple, not only does the Apple SIM card allow iPad Air 2 users to avoid being locked in to a long-term contract with just one data provider, it also lets users switch carriers without having to buy a specific carrier's SIM card and physically swap it out with another carrier's card. Now iPad Air 2 users can simply select the carrier of their choice and buy a short-term data plan, all from within iOS. So far, the participating carriers include AT&T, Sprint, T-Mobile and the U.K.'s Everything Everywhere (EE). While Verizon is currently missing from the list, Apple noted that "Participating carriers are subject to change."
Not only does Apple's new SIM card provide iPad Air 2 owners with more flexibility in choosing their data provider, it could also have implications for the wider smartphone market that is currently based around long-term contracts that allow customers to buy devices at lower, subsidized prices. On the other hand, since most carriers already sell the iPad without a long-term contract, Apple's introduction of a multi-carrier SIM card is considerably less disruptive in the tablet market than it would be if it tried to introduce a similar technology for its iPhone.
In fact, as reported by The Telegraph, Apple flirted with introducing a similar SIM card technology for the iPhone in 2010 before abandoning its plans due to mobile carriers' threats to stop selling the device. However, with unsubsidized, contract-free smartphones becoming increasingly popular thanks to carriers like T-Mobile, it may not be long before Apple revisits its iPhone SIM card plans. Finally, although the iPad Air 2's Apple SIM card is still removable, it may also not be long before Apple ditches the SIM card altogether in favor of a purely software-based solution.
Although the Apple SIM card is an important step in making it easier for iPad Air 2 users to switch data providers, there are still unknown details about how the service will operate. For example, it's unclear how often users will be allowed to switch carriers. Once every month, once every day, or once every hour? It's also unknown if changing carriers will incur switching fees. Either way, it's clear that the Apple SIM card has the potential to disrupt the current relationship between consumers, carriers, and mobile device makers.
Follow Nathanael on Twitter (@ArnoldEtan_WSCS)
More from Tech Cheat Sheet: