Here's Why Apple's Horrible Quarter Was Actually Pretty Great
That Apple's (NASDAQ:AAPL) stock did not finish 2012 well is a pretty obvious understatement. The company's share price, after all, grew more than 73 percent from the beginning of last year until September 19, when it closed at a never-before mark of $702.10. From then until the end of the year, it fell about 25 percent. Unfortunately for Apple, the stock has continued its drop since the release of its fiscal first-quarter earnings report on January 23 and is now down at $450 levels.
While the report signaled a slowing earnings growth rate and gave investors reasons for worry, in absolute terms, the quarter wasn't as bad as it appeared. The $13.1 billion in profit Apple posted was the fourth most profitable quarter for any company in history. The only other companies that have ever reported a higher quarterly profit are ExxonMobil (NYSE:XOM), Russian energy company Gazprom, and The Netherlands' Royal Dutch Shell (RDS). The fifth highest also came from Apple, in the same quarter last year.
As statistics portal Statista pointed out, Apple $13.1 billion was also 31 percent higher than the $10 billion profit of its closest competitor, ExxonMobil, which briefly surpassed the iPhone maker in market cap last month. Apple also earned $100 million more in the quarter than Wells Fargo (NYSE:WFC), Proctor & Gamble (NYSE:PG), and General Electric (NYSE:GE) combined. Among technology companies, Apple earned more than twice the $6.4 billion of its nearest competitor Microsoft (NASDAQ:MSFT).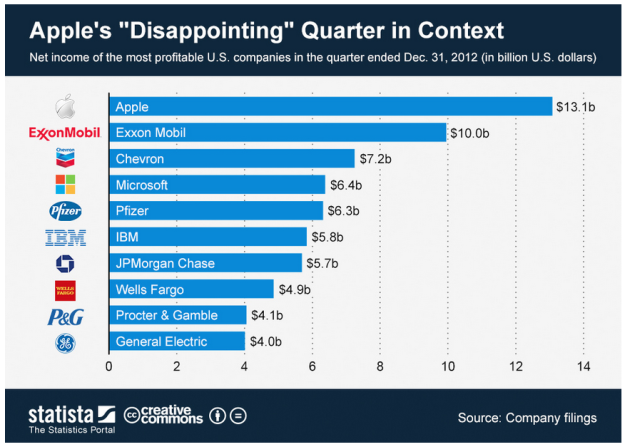 Don't Miss: The iPhone Can't Stop Growing!