Here's Why Apple's iPhone is Hotter Than the Galaxy S4
A recent survey shows that Apple (NASDAQ:AAPL) appears to have grabbed the interest of a fickle yet important demographic:  the Millennials. Millennials are consumers born between 1983 and 1995 and are known as a trend-setting demographic.
According to a Prosper Insights & Analytics study, 67.6 percent of Millennials rated the Apple iPhone as "hot." Interestingly enough, despite being on the cusp of the debut of Samsung's Galaxy S 4 device, this younger demographic still gravitated toward the "older" iPhone 5. Millennials were slightly less enthusiastic about Samsung's (SSNLF.PK) Galaxy S 4, with only 61.9 percent of them giving the South Korean company's flagship device a "hot" rating.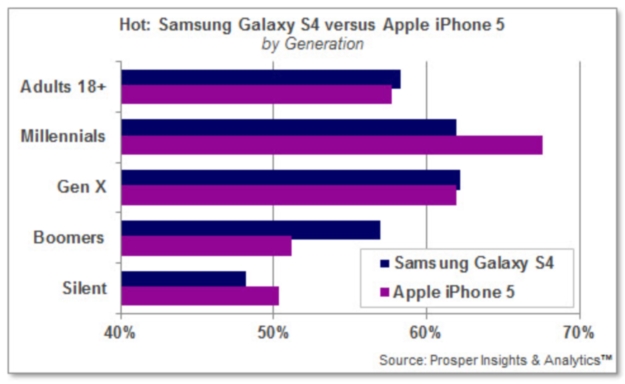 This seems to buck last year's trends in which Google (NASDAQ:GOOG) Android devices enjoyed greater popularity with younger users, notes Prosper Foundation analyst Pam Goodfellow via Forbes. However, the results were more even when all adult demographic groups were included. Among all adults, both devices averaged about a 58 percent "hot" rating. Only Baby Boomers seemed to definitely prefer the Samsung Galaxy S 4.
Among all adults who are considering a mobile phone purchase within the next three months, devices using the Android platform took a more decisive lead. Fifty-four percent of surveyed consumers said they would purchase an Android-powered device, while only 41.5 percent were considering purchasing an Apple iPhone.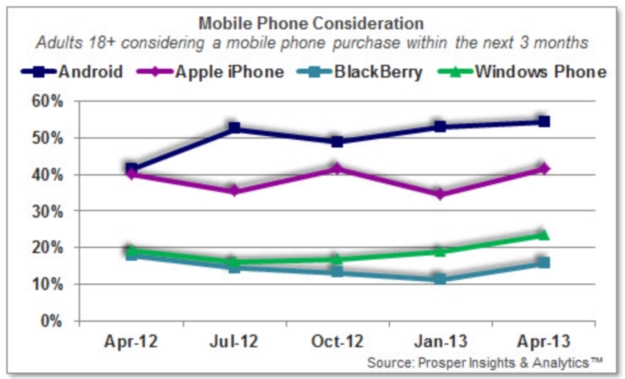 Although Apple has lost ground in the "Mobile Phone Consideration" survey, the Cupertino-based company seems to be grabbing the interest of younger consumers. In this sense, Apple can take comfort in the old adage that "the children are the future;" or in Apple's case, the source of future profits.
Apple closed up 2.16 percent at $417.20 on Friday. Here's how the company has traded throughout the week.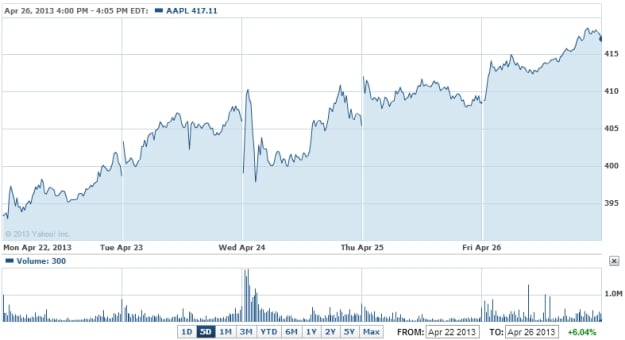 Don't Miss: iPad Slows As Surface Grows: Microsoft Proves Its Worth to Apple.