Here's Why Best Buy Wants to Hang Out on Christmas Eve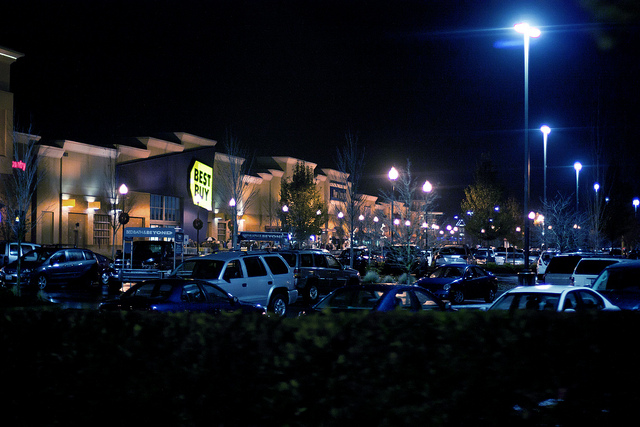 Best Buy (NYSE:BBY) says it's not over until the fat lady — or in this case, elf — sings. The minutes are ticking down on the lucrative holiday shopping season, but the electronics retailer is determined to squeeze out some last-minute sales, and it is utilizing Google+ (NASDAQ:GOOG) to help it do so. Retail Info System News reported Monday that Best Buy is hosting a Web event on its Google+ page on Christmas Eve. The company is planning on offering a final sales pitch on some of its most popular gadgets and help explain how they work.
The live event will take place at 8 p.m. Christmas Eve and will be hosted by technology video bloggers Austin Evans, Marques Browniee, Soldier Knows Best, and Machinima. The group is maintaining optimism that some shoppers still need to pull the retail trigger before the clock strikes midnight. RIS News says that the tech panel will offer gift suggestions and highlight popular products on Christmas Eve, and the employees will also take questions from the audience.
This isn't the first time Best Buy has organized a Google+ Hangout — it also hosted on last week, on December 17, but this time, it is hoping to attract more than 240 viewers. The company is banking on those last minute shoppers.
RIS News reports that shop-able Hangouts are still a work in progress for Google, but Best Buy is willing to enlist all the help it can get. Now that the electronics retailer faces increased competition from Wal-Mart Stores (NYSE:WMT), Target (NYSE:TGT), and its biggest competitor of all, Amazon.com (NASDAQ:AMZN), Best Buy is suffering the effects of a saturated market.
That's why, like Wal-Mart, Best Buy is using its employees to help it stand out from the crowd. Because, sure, maybe you can get an Xbox One for the cheapest price on Amazon, but you also have to make your purchases without the assistance and advice of retail employees. The company is hoping not everyone wants to take advantage of the blind "Buy" click, especially when it comes to a $675 purchase.
So Best Buy is hoping that there are still some shoppers looking to buy big this holiday season, particularly those in need of some help. That's where its Christmas Eve hangout will come in. There might not be cookies, but there will be Best Buy employees available to help — and really, who doesn't want to hang out with the Best Buy team on the night before Christmas?
More from Wall St. Cheat Sheet: