Here's Why Content Providers Suddenly Adore Netflix

The deal Netflix (NASDAQ:NFLX) signed with DreamWorks Animation (NASDAQ:DWA) was the largest deal for original first-run content in the company's history, and its shares rose as much as 7 percent on the news Monday morning. Netflix's stock climbed $12.72 to $226.71 just after 10 a.m. in New York, its biggest intraday gain since April 23. In general, investors are becoming more confident about the subscription video-streaming service's business model, bidding shares up by more than 147 percent so far this year.
"Netflix is starting to get to a degree where content companies are considering them a viable distribution partner" for new programs, Jefferies analyst Brian Fitzgerald told Bloomberg. Studios are "coming to Netflix for deals instead of vice versa," he added. Still, the deal will give the company an edge in the hotly competitive market for streaming content. With similar services operated by Comcast's (NASDAQ:CMCSA) Hulu and Amazon (NASDAQ:AMZN), the task of capturing viewers, especially younger ones, whose primary means of consuming media is through the Web, has become increasingly difficult.
With this deal, Netflix significantly added to its growing stockpile of exclusive video. The partnership will result in 300 hours of original programming, in what might be the biggest commitment yet to bring Hollywood-caliber content to the Internet first. The shows will be inspired by well-loved characters from DreamWorks franchises like Shrek, or based off of new feature films. The first series are expected to be released in 2014, according to a joint press release.
DreamWorks and Netflix first began developing business ties earlier this year when they teamed up to create Turbo: F.A.S.T., a television series created for Netflix based on the upcoming DreamWorks film Turbo. The Internet video provider also signed an agreement with DreamWorks in 2011 that gave it exclusive distribution rights for first-run feature films.
For Dreamworks, the Netflix deal will give the company the opportunity to decrease its dependence on the volatile movie business. Until recently, DreamWorks has spent its resources on releasing two costly movies per year, and its success record is long, populated by the Shrek, Madagascar, and Kung Fu Panda franchises. But one miss — like 2012's Rise of the Guardians — can send its stock price plummeting. That film missed expectations and forced the company to take an $87 million write-down. Besides partnering with Netflix, DreamWorks could have either launched a cable channel of its own, perhaps in conjunction with NewsCorp's (NASDAQ:NWS) 21st Century Fox, which distributes its movies, or teamed with a children's network like the Hub. But its decision to go with Netflix pushed the company's stock up as much as 5.2 percent to $24 on Monday.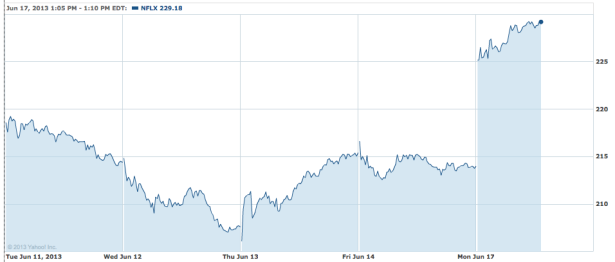 "This is an unprecedented commitment to original content in the internet television space," said DreamWorks Chief Executive Officer Jeffrey Katzenberg in the press release. "Netflix is a visionary company that continues to redefine the way audiences watch television and it is a thrill to add to their growing momentum."
Netflix's new momentum has come as Chief Executive Officer Reed Hastings has transformed the company into an undisputed leader of Internet-video streaming services. The company took a severe misstep two years ago when he attempted to spin off Netflix's DVD business, and had several tough months when it looked as if content acquisitions were becoming too expensive. But a balance has been found between studio deals and the creation of original content.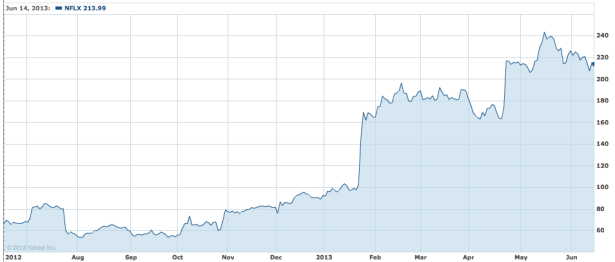 Follow Meghan on Twitter @MFoley_WSCS
Investing Insights: Should You Add Amazon To Your Portfolio?