Here's Why Microsoft Should Be Wary of Google Chromebooks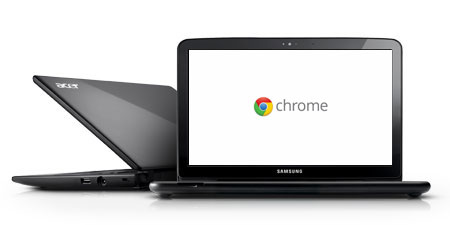 Microsoft (NASDAQ:MSFT) better keep on its toes – Google (NASDAQ:GOOG) Chromebooks are becoming the fastest-growing portion of the personal computer industry based on price.
Initially dismissed as bare-bones laptops with a lack of built-in software when introduced to the market in 2011, Chromebooks are now gaining share while the rest of the PC industry treads water. Sources told Digitimes that Chromebook shipments in the second half of this year are expected to double or even triple those in the first half as Acer, Lenovo, Hewlett-Packard (NYSE:HPQ), and Samsung (SSNLF.PK) are all reportedly preparing to launch new Chromebooks.
HP and Lenovo are both expected to increase their Chromebook orders in the second half, while Acer will raise its orders threefold and Samsung fourfold. Chromebook original design manufacturers Quanta Computer and Compal Electronics are also expected to enjoy a strong performance in the second half through these bolstered orders.
NPD Group Inc. analyst Stephen Baker told Reuters that Chromebooks have snagged 20 to 25 percent of the U.S market for laptops that cost less than $300 in just the past eight months.
"The devices, which have a full keyboard and get regular software updates from Google, are the fastest-growing part of the PC industry based on price," Baker said. "While we were skeptical initially, I think Chromebooks definitely have found a niche in the marketplace. The entire computing ecosystem is undergoing some radical change, and I think Google has its part in that change."
Research firm IDC said notebook-PC sales have already been eroded by the popularity of smartphones and tablets like Apple's (NASDAQ:AAPL) iPad. Worldwide PC shipments fell 4 percent in 2012 and are forecast to decline 7.8 percent this year, the largest annual drop on record. Despite the increased demand, Gartner Inc. analyst Mikako Kitagawa said: "Chromebooks still hold a small portion of the total U.S. market for laptops and netbooks. The devices had about 4 percent to 5 percent share in the first quarter, though that was up from 1 percent to 2 percent in 2012."
From a consumer perspective, the price alone makes Chromebooks more attractive than Microsoft's Windows 8 laptops. Samsung's $249 Chromebook has been a consistent best seller on Amazon.com (NASDAQ:AMZN), as has Acer's $220 Chromebook. Comparatively, Windows 8 laptops start at around $599. As a result, the overall deliveries of Windows laptops have been falling on a quarterly basis, according to IDC and Gartner Inc.
While Windows laptops have software that is loaded onto the devices themselves, Chromebooks are based on Google's Chrome operating system. Customers access tools from the cloud including Google's own word processing, email, and spreadsheets. The cloud services drive more data and, ultimately, more advertising back to Google.