Here's Why Microsoft's CEO Search Is Urgent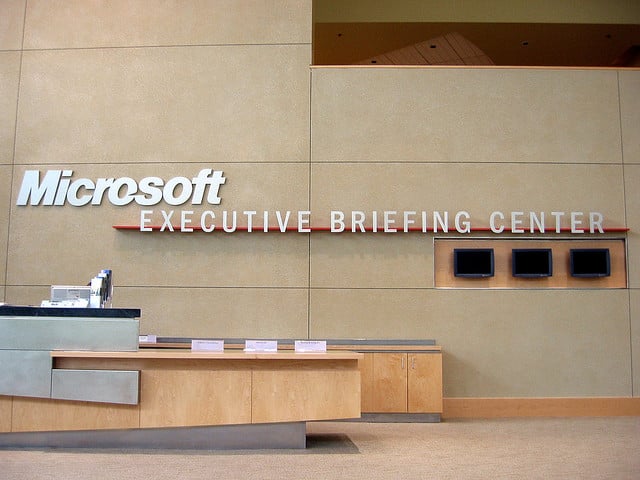 Whoever he or she may be, Microsoft's (NASDAQ:MSFT) next chief executive officer will have a weighty task: To guide the software maker's efforts to fend off competition from rivals like Apple (NASDAQ:AAPL) and Google (NASDAQ:GOOG), which are better suited to mobile computing.
With each product launch, those competitors are pulling farther and farther ahead, putting urgency into the Microsoft's search for a new leader. Ideally, the company's board of directors would like the successor to current CEO Steve Ballmer in place by the end of the year, and it is in the midst of narrowing down its potential list of candidates.
Bloomberg spoke to sources familiar with the company's decision process who said eBay (NASDAQ:EBAY) Chief Executive John Donahoe has declined to be considered, but that Ford's (NYSE:F) Alan Mulally and former Microsoft executive and current Nokia (NYSE:NOK) CEO Stephen Elop, who will join Microsoft when its $7.2 billion acquisition of Nokia's handset division is completed, are both in consideration.
But so far, Ford has emphasized that Mulally will stay on as chief executive through 2014. "Alan [Mulally] is focused on continuing to execute the One Ford plan," company spokesman Jay Cooney told Bloomberg. "Nothing has changed from what we announced in November."
Microsoft's next CEO — be it Mulally, Elop, former Microsoft executive Paul Maritz, or someone else — will take the reins of a company in the midst of a massive transition. Microsoft's acquisition of Nokia's cellphone business locked Ballmer's successor into manufacturing devices, which is likely why many industry experts are favoring the current Nokia CEO as the next chief executive.
The purchase was part of the company's new vision: In July, Ballmer announced a "far-reaching realignment of the company that will enable [Microsoft] to innovate with greater speed, efficiency and capability in a fast changing world." In a strategy document titled "Transforming Our Company," he noted, "as the times change, so must our company." Basically, the transformation the CEO had in mind was a greater focus on tablets and smartphones.
That is the legacy the next Microsoft CEO will inherit. But investors are hoping that Ballmer's successor will not follow in his steps too closely. Investors are not very pleased with Microsoft's hardware forays — not only have the company's efforts been underwhelming, the hardware business has touch margins that squeeze profits. Investors have been calling for Ballmer to step down for some time and for a visionary new leader who will focus on innovation rather than salesmanship.
The chief executive has taken a great deal of criticism for the poor performance of Microsoft's stock since he assumed the leadership position in 2000. Under Ballmer, the stock has lost approximately 42 percent of its value in the past 13 years, a symptom of Microsoft's inability to keep up with the changing technological trends.
In investors' eyes, the steps Microsoft has taken into the mobile world have been disappointing. Since its launch, reviews of the Surface tablet, the company's first step into the hardware industry, have not been overwhelmingly positive, nor have sales figures, and that problem is evident in the company's financials.
In mid-July, the Microsoft reported that fourth-quarter net income came in at $5 billion, or 59 cents per share, which included a charge of $900 million, or 7 cents per share, "related to Surface RT inventory adjustments," meaning that Microsoft miscalculated the number of tablets that should have been manufactured or the price the company should have charged for the device.
As for Windows Phone, Microsoft's mobile operating system powered 3.7 percent of all smartphones shipped in the second quarter of 2013. While the platform posted the largest year-over-year increase among the top five smartphone platforms and reinforced its position as the No. 3 smartphone operating system, its share of the market is small compared to that of Apple's iOS and Google's Android.
Still, in his September 27 letter to shareholders, Ballmer framed fiscal 2013 as a "pivotal year for Microsoft in every sense of the word." It was a letter full of fancy phraseology that managed to convey very little in its 976 words about the company's future plans, other than his enthusiasm. But it did give a sense of what the next Microsoft CEO will face.
"This past year we took the first big bold steps forward in our transformation and we did it while growing revenue to $77.8 billion (up 6 percent)," he wrote. "To increase innovation, capability, efficiency and speed we further sharpened our strategy, and in July 2013 we announced we are rallying behind a single strategy as One Microsoft. We declared that Microsoft's focus going forward will be to create a family of devices and services for individuals and businesses that empower people around the globe at home, at work and on the go, for the activities they value most."
Follow Meghan on Twitter @MFoley_WSCS
Don't Miss: Amazon Jumps On the Online Payment Bandwagon.