Here's Why Microsoft's Earnings Left the Company on Cloud Nine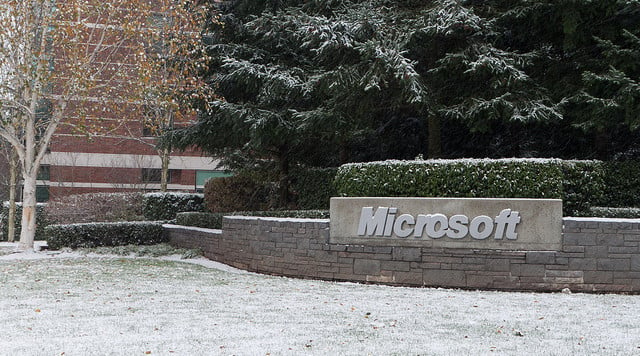 When Microsoft Corp. (NASDAQ:MSFT) reported strong third-quarter earnings last week, the tech company took analysts and investors off guard. Microsoft has been struggling as of late, facing a huge write-down on its Surface tablets in the second quarter and searching for a new CEO after Steve Ballmer made a surprise announcement at the end of August that he will leave the company sometime in the next year.
But third-quarter results showed that there's some light peeking out from behind the clouds for Microsoft: Driving the company's third-quarter growth were its cloud-based software offerings. Microsoft's software and database services have remained popular among business clients and boasted triple-digit growth in the quarter.
Microsoft reported that its commercial cloud revenue grew 103 percent year-over-year in the quarter ended September. That growth was spurred by Windows Azure and Office 365, an online version of Microsoft's Office software that populates most desktops.
Amazon.com Inc. (NASDAQ:AMZN) may have essentially created the cloud computing market, and Google Inc. (NASDAQ:GOOG) may offer Google Drive for free, but corporate clients still seem to prefer sticking with Microsoft's familiar format when switching to the cloud. Microsoft reported that its Office offerings helped it steal 440 corporate customers from Google during fiscal year 2013.
According to a report from Wired, Amazon is still the dominant force in the cloud computing market, and Forrester estimates it has a 71 percent share. That same research showed that Microsoft only has a 20 percent share in the cloud market, but the company seems to have managed the difficult task of getting its business clients to switch to the cloud.
Microsoft has also invented an approach called hybrid cloud computing in which the company includes Azure in its business software offerings. Wired said the move gives Microsoft an advantage over Amazon, which doesn't offer pure business software, and that it will help stop Microsoft's cloud offerings from cannibalizing its other software and database products.
Microsoft has made a big bet on its struggling Windows Phone with the purchase of Nokia Corp.'s (NYSE:NOK) handset business in a $7.2 billion deal that's expected to close next quarter. While Microsoft has been unable to keep up with competitors in the smartphone business, the growth of its cloud offerings, even versus tech behemoths like Amazon and Google, suggests that the company may do well to lay off on smartphones and keep its head in the clouds.
Follow Jacqueline on Twitter @Jacqui_WSCS
Don't Miss: Samsung Scores a Slam Dunk With the NBA.