Here's Why Russia's Richest Man Loves Apple
Investors' concerns over Apple's (NASDAQ:AAPL) slowing sales growth and questions regarding the iPhone maker's future profitability have caused a significant sell-off; since hitting its all-time high in September of last year, the company's stock has lost close to 40 percent of its value. But the concerns partly reflected in Apple's falling stock price do not trouble Russian billionaire Alisher Usmanov.
Usmanov — who is remembered in financial circles for the more than 10-fold return he made from an investment in Facebook (NASDAQ:FB) — told Bloomberg last week that he poured about $100 million into Apple shares, betting that they will rise. He is currently the world's 35th wealthiest man, with a fortune totaling $19.8 billion, according to the Bloomberg Billionaires Index. Usmanov made his money from investments in China's Alibaba.com and the Russian Internet company Mail.ru Group.
"I believe in the future of this company even after Steve Jobs," Usmanov said about Apple in an interview at Bloomberg's Moscow offices. "When the company lost $100 billion of its market value, it was a good time to buy its shares, as the capitalization should rebound."
The billionaire did not specify when he purchased the stake in Apple, but he did state that he believes Apple will be a "very promising investment" for the next three years, especially given the company's recent decision to increase both its quarterly dividend and its share buyback program. "Nothing is eternal," he added, referring to the lows the company's stock has reached in recent weeks.
"I still believe in the high technology sector and I am also absolutely confident in the future of Facebook," Usmanov said in the April 25 interview. The DST Group — a set of funds backed by the Russian billionaire — first purchased a stake in Facebook in 2009, when the social network was valued at $6.5 billion. DST sold a $1.7 billion stake in the company's initial public offering in May 2012 — at which time Facebook was valued at about $100 billion. The sale generated about $1.4 billion.
Usmanov also discussed his other investments with Bloomberg, noting that "in the current situation, cash is king." He said he typically prefers to keep his funds as bank deposits, predominantly in Russia. While many wealth Russians kept money in Cyprus, Usmanov said his companies were unaffected by the levy on Cypriot bank deposits, but he said the tax was a "clear expropriation."
As for which American investors Usmanov "respects," he said that Berkshire Hathaway (NYSE:BRKA)(NYSE:BRKB) Chairman Warren Buffett's business model appeals to him the most. Yet, he said he does not feel the need to join Buffett and Bill Gates Giving Pledge initiative, a campaign aimed at encouraging the world's wealthiest people to donate at least half their fortunes to philanthropic causes.
However, Usmanov did give $247 million to charity from 2010 to 2012, according to a Bloomberg survey. "I always thought that one should do all that one can," he said during the interview. "It may happen that I won't leave any heritage at all, but I would prefer to do everything I can to make this world better myself and right now, rather than someone else doing it after me as I don't know whether he will do it better than me."
Here's how Apple (NASDAQ:AAPL) traded on Tuesday: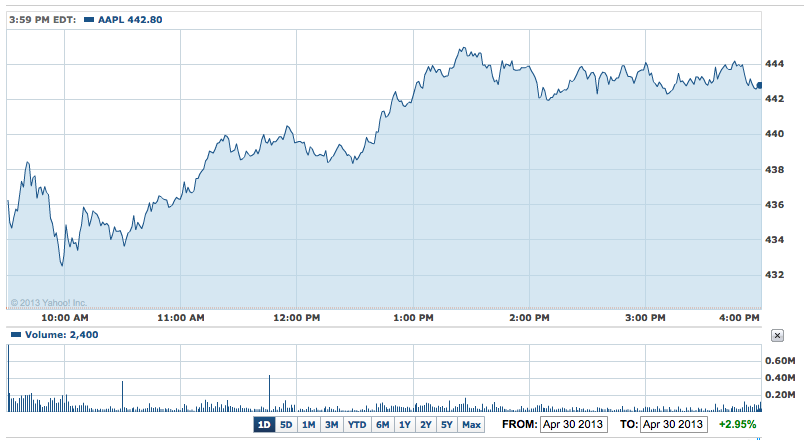 Don't Miss: Is Apple's iOS 7 Targeting Cars?