Here's Why Users Love Apple
Once again, Apple (NASDAQ:AAPL) has topped the survey for the highest rated overall "computer experience" slot, with second place taken by Hewlett-Packard (NYSE:HPQ). The factors that make up the category include excellent functionality, accessibility, and the power to generate strong positive emotions. The latest result awarded Apple the top spot for the third year running. The survey, conducted by the Tempkin Group, consisted of 10,000 participants.
Although still number one, Apple sat only two percentage points above second-place HP, which actually scored a higher functionality rating than Macbook maker. Out of the ten manufacturers placed in the survey, Sony (NYSE:SNE) and Lenovo (LNVGY.PK) scored the least favorably. Although Apple placed first, it dropped one percentage point since last year, and HP's gain of 3 percent narrowed the gap further.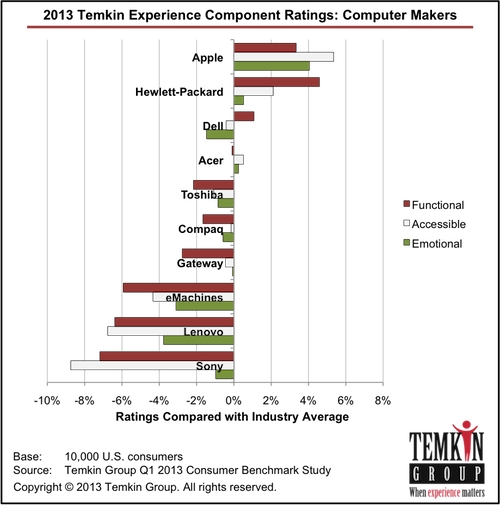 Interestingly, overall computer experience — as an industry whole — has been increasing, up six percentage points to 60 percent over 54 percent in 2011. This indicates that manufacturers as a whole have been doing well as far as meeting consumer needs, and providing more accessible and functional systems. Additionally, Sony and Lenovo, tied for last, scored 54 percent on the survey, while first-place Apple held 64 percent. In total, the spread of companies spanned only 10 percentage points between first place and last.
Together, Apple and HP represented the only two companies who scored consistently higher than the industry average, and Dell, (NASDAQ:DELL) which took third, placed as the "most improved" with a six percentage point gain.
Out of the 19 industries that were rated for quality of experience, the computer industry fell somewhere in the middle, and very few of the industries fell above a "mediocre" rating at all. Grocery store chains and fast food seemed to do the best, while TV service and cable providers occupied the bottom slots.
Don't Miss: Here's How Apple is Helping Parents Save Money.