Here's Zuckerberg's Epic Status Update
What's the most interesting update on your Facebook (NASDAQ:FB) Timeline today? Checked in for a Friday brunch at your favorite crepe bar? Did you finally hand in that term paper? Whatever you posted, Mark Zuckerberg topped it when he added this to his personal timeline: "Mark Zuckerberg listed a company on NASDAQ. — with Chris Cox and 4 others" (see below).
Don't Miss: Is Facebook Overvalued?
The four others were Facebook chief operating officer Sheryl Sandberg, chief financial officer David Ebersman, vice president Cipora Herman, and general counsel Dave Kling. Zuckerberg was, of course, ringing the market opening bell at NASDAQ as the Facebook stock made its public trading debut at the stock exchange on Friday. The company has been valued at $104 billion after selling 421.2 million shares at $38 apiece to raise $16 billion in its IPO on Thursday. No big deal, then.
Though Zuckerberg gets a lot of flack for wearing hoodies to investor meet-ups, at least he wasn't punching in a status update while in talks today. A Facebook engineering team worked on a hack that connected the NASDAQ button to a mobile phone, which would automatically post the update when Zuckerberg pressed the single button to start trading. And yes, they asked for NASDAQ's permission before breaking open the box to connect it to their hurriedly put together mechanism. David Garcia, a senior software engineer at Facebook, told TechCrunch it was a spur of the moment idea to create an automatic update, and Zuckerberg gave his blessing with this comment: "It would be epic if you pulled that off."
Epic, all right.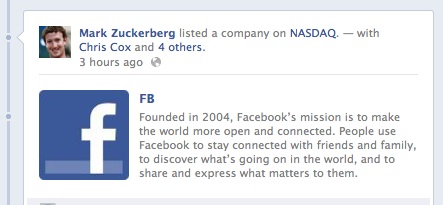 Investing Insights: Facebook Pummels Zynga Shares.