Hewlett-Packard's Meg Whitman: Don't Count Out Desktops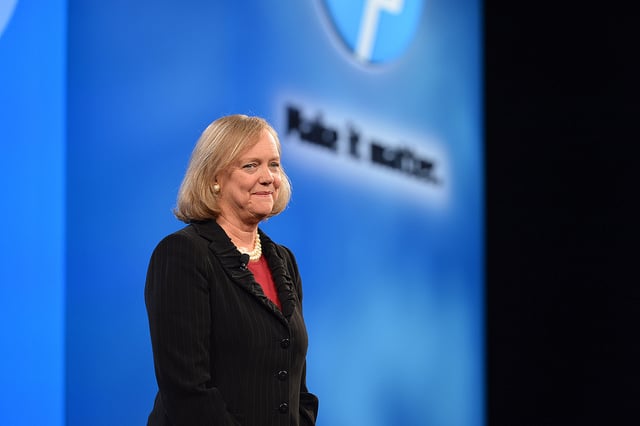 Desktops aren't exactly at the forefront of the technology industry these days, but Hewlett-Packard (NYSE:HPQ) CEO Meg Whitman isn't ready to count out PCs just yet. At HP's Discover Conference in Barcelona, Whitman told CNBC that "desktops are not dead" and maintained that she and her team are already working on new products that take features from laptops and tablets and combine them into one device.
Hewlett-Packard's strides in innovation show that the company is continuing to try to keep up with the ever-evolving tech industry and release relevant products. Its next device might not be as old and clunky as the previous desktop computers, but it will still maintain some of the old PCs' most advantageous features.
After a few bad years, Hewlett-Packard has recently been enjoying positive attention from the media. Although the company has yet to once again prove itself as a force to be reckoned with, Whitman has continued to tirelessly manage HP's five-year turnaround plan, and even the skeptics are beginning to think the once highly successful company might still have a chance.
CNBC reports that Hewlett-Packard shares are up nearly 90 percent this year, and Whitman told CNBC in her interview: "We're making a lot of progress. We have to continue to innovate. The innovation engine is alive and well at HP."

Two years into HP's turnaround plan, it's do or die for Whitman. The CEO is the fourth chief executive to lead the HP ship in 14 months, and HP shares reveal that investors are confident in Whitman's potential. However, with the turnaround already well underway, Whitman either needs to start making some moves and establish HP as a viable competitor again or cut her losses and let the ship sink.
Whitman has surely shown some progress, recently raising HP's dividend by 10 percent and announcing share buyback plans, but even as she tells CNBC that "HP is coming back and it's coming back strong," investors are still waiting for her company to prove it.
Among the list of things that Whitman still needs to accomplish at HP is the integration of U.K. company Autonomy. CNBC reports that HP bought Autonomy in 2010 for $11 billion, but it is now navigating allegations of accounting fraud at the U.K. firm. Whitman said to the news outlet that "The wheels of justice are turning slowly" in the United States on the Autonomy case. The allegations against Autonomy represent a setback that HP likely isn't pleased to be dealing with, especially now, but as the company works to pay down its significant debt pile, it has to cover all its bases.
Nonetheless, the media chatter surrounding HP continues to be relatively positive, and there's reason to believe that the company could end up getting a second wind if Whitman has anything to say about it. If anyone is confident about the company's potential, it's the CEO, and she maintained to CNBC, "Customers can see us being more optimistic than we have been in a number of years."
Don't Miss: Apple Steals Radio Exec From Cumulus Media.