Hey Facebook, Don't Worry About User Loyalty Just Yet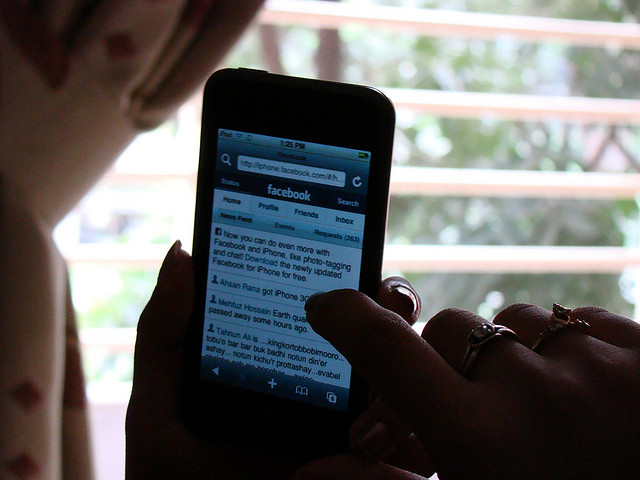 According to new data collected by eMarketer, consumers using social media sites to connect with others have increased significantly in the last year, which probably isn't a surprise to many.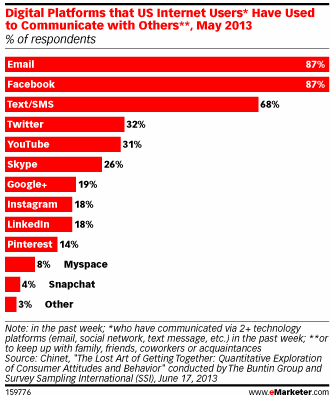 A May 2013 survey of U.S. consumers who use at least two tech platforms to connect with others found that during a given week the average user spends 23 hours using email, text, or social media sites.
Email and Facebook (NASDAQ:FB) were the top methods used by respondents, both showing that 87 percent of users log in at least once a week. Around thirty percent of respondents said that they logged into Twitter and Google's (NASDAQ:GOOG) YouTube once a week.
The most surprising results of the survey were reflected in the rising popularity of niche social networks. Facebook's Instagram, LinkedIn (NYSE:LNKD), and Pinterest saw one in ten users logging into the sites at least once a week. Those niche sites also have a lot of user loyalty. Fifty-eight percent of Pinterest users, 40 percent of LinkedIn users, 67 percent of Snapchat users, and 70 percent of Instagram users logged in to those sites at least once a day.
When analyzing the amount of time users spent on each platform in a given week, email took the cake with 7.8 hours and 91 percent of users logging in at least once a day. Facebook was a close second with 6.8 hours per week and 76 percent of users logging in at least once a day.
While Google's social networking competitor to Facebook, Google+, may not catch up with Facebook anytime soon, this survey shows the people who do use the site regularly spend slightly more time on it than Twitter users, 4.3 hours compared to 4.2 hours. But Twitter's user base is still much higher, and those numbers probably have more to do with the fast nature of tweeting than they do with the popularity of Google+.
The results of the survey also showed that people are tiring of the constant tech grind, with 54 percent of respondents saying they had taken a break from technology in order to focus on in-person contact at least once in the past year. Sixty-two percent said they planned to step away from their computers and smartphones in order to connect in-person at some point in the next year.
Whether people come through on those plans in an increasingly tech-driven world, or whether those promises will fall to the wayside like a forgotten New Year's resolution, remains to be seen.
Follow Jacqueline on Twitter @Jacqui_WSCS
Investing Insights: Is Time Warner Cable a Buy at All-Time Highs?