How Do Adults and Teens Use Social Networks Differently?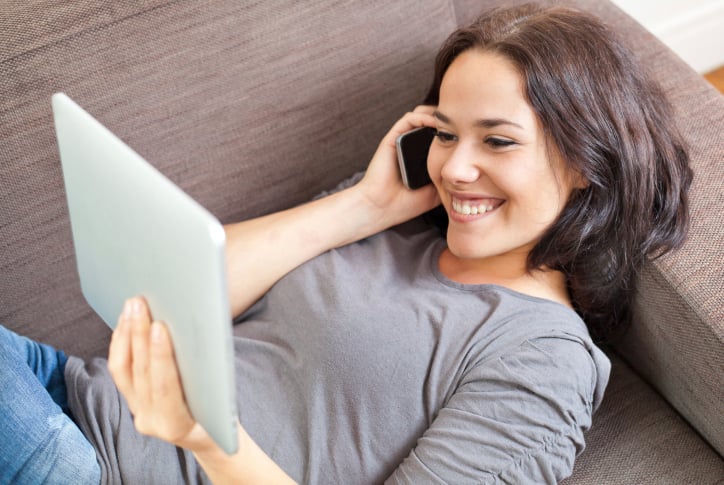 Even as teens turn away from desktop-first social networks, in favor of more intimate messaging and photo-sharing apps, online adults as a whole are increasing the amount of time that they spend with traditional social media. A recent report released by the Pew Research Internet Project finds that the amount of time that American adults spend with social networks is still increasing, and social networks' level of user engagement continues to rise.
While Facebook remains the most popular social network by far, its growth has slowed, with Pew noting that its membership saw little change from 2013. Overall, 71% of Internet users are on Facebook, a proportion that represents no change since August 2013. One notable exception was that for the first time, Pew found that more than half of internet users ages 65 and older use Facebook.
Seventy percent of Facebook users engage with the network daily, (and 45% do so several times per day), a significant increase over the 63% who engaged with it daily in 2013. Every other social media platform measured — including Twitter, Instagram, Pinterest, and LinkedIn — saw significant growth. Pew notes that LinkedIn continued to grow among groups with which it was already popular, including professionals and college graduates, while Twitter and Pinterest saw increases in usership across a variety of demographic groups.
Forty-nine percent of Instagram users and 17% of Pinterest users engage with those platforms daily, and 36% of Twitter users visit the site daily (which represents a decrease of 10 percentage points since 2013). The 13% of LinkedIn users who engage with the site daily is unchanged since 2013, but the proportion of users who use the site weekly or less often has increased significantly.
Most interestingly, 52% of online adults regularly logged in to at least two social networks, up from the 42% who did so in 2013. Significantly fewer adults say that they use just one site, 28% compared with 36%. Pew explains, "As in 2013, Facebook remains the most popular site among those who use only one — fully 79% of those who use just one site report using Facebook. As in years past, a significant majority of Twitter, Instagram, Pinterest and LinkedIn users say they also use Facebook, more than any other site."
But compared to the growing proportion of online adults whom Pew found to use Facebook, a December report obtained by Bloomberg found that the number of teens on the platform is falling. The proportion of 13 to 17-year-old social media users in the U.S. on Facebook slipped to 88% in 2014, from 94% in 2013 and 95% in 2012. Bloomberg noted that while more people use Facebook and its messaging app than any of its competitors, its user base skews older, with 55% of Facebook Messenger users aged 37 or younger. The same measure shows that 86% of Snapchat's users and 83% of Kik's users are under 37.
As Tech Cheat Sheet reported recently, Facebook is losing popularity with teens for various reasons. Research shows that teens don't perceive the social network as trustworthy. They are also using platforms like Instagram as alternatives to Facebook, and they're increasingly turning to messaging apps that are better suited to their newly mobile mode of social networking. Teens are spending more time on messaging apps, and even on Twitter, which has reported that it has 48% engagement among teens.
But Pew notes that Twitter, which has reported slowing user growth in recent quarters, saw fewer visits from its U.S. users, with only 36% of them visiting the site daily, down from 46% in 2013. Vindu Goel, writing in The New York Times, notes that Twitter disputed Pew's findings in a statement after the survey data was released. Rachel Millner, a Twitter spokeswoman, stated, "Pew's data is so wrong as to be laughable. As we said at our Analyst Day in November, 48 percent of our monthly active users in our top 20 markets use the service daily, and the U.S. is our top market."
The controversy makes it obvious that measuring how users engage with social networks is difficult. What's clear when it comes to social media use is that figuring out how and why users choose their social networks and apps is a complicated question: so complicated that a post on how teens use social media — written by a teen — was shared widely by tech executives and tech press. The post on Backchannel by college student Andrew Watts, titled "A Teenager's View on Social Media," was heralded as a rare view of what teens really think of social media. But as social media scholar and youth researcher danah boyd noted in her response to Watts's piece, titled, "An Old Fogey's Analysis of a Teenager's View on Social Media," his analysis shouldn't be read as indicative of the experiences of the large and diverse group of all teens.
For instance, she writes that his coverage of Twitter — of which he writes that "a lot of us simply do not understand the point" — contrasts with what is going on outside his peer group and fails to account for the uptick in U.S.-based activism among youth on Twitter. Additionally, boyd points out that "teens' use of social media is significantly shaped by race and class, geography and cultural background." As boyd notes, Watts's depiction of Twitter and of teens' use of social media in general "is a depiction of a segment of the population, notably the segment most like those in the tech industry." She explains:
I don't for a second fault Andrew for not having a perspective beyond his peer group. But I do fault both the tech elite and journalists for not thinking critically through what he posted and presuming that a single person's experience can speak on behalf of an entire generation. There's a reason why researchers and organizations like Pew Research are doing the work that they do — they do so to make sure that we don't forget about the populations that aren't already in our networks.
There are clearly important differences in the ways that adults and teens use social networks and social media apps, but it's important to acknowledge that people's usage patterns vary based not only on their age, but on their location, environment, socioeconomic background, race, and gender. It's important to realize that more research is necessary to understand the whole picture of how Americans use social networks as our definition of "social media" expands from traditional properties like Facebook and Twitter to include an increasing array of services and apps.
More from Tech Cheat Sheet:
Want more great content like this? Sign up here to receive the best of Cheat Sheet delivered daily. No spam; just tailored content straight to your inbox.