How One Tech Company Envisions a Different Type of Internet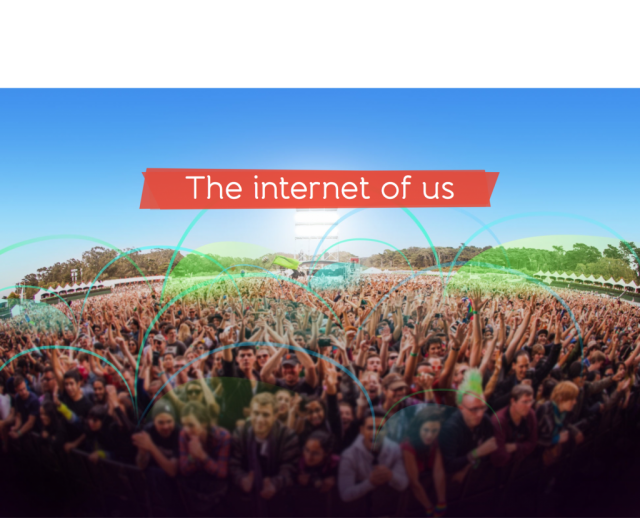 The growing momentum of a messaging app called FireChat signals that the structure of the Internet is about to change. FireChat enables smartphone users to communicate directly with each other using the Bluetooth and WiFi capabilities of their phones, eschewing the traditional necessity of a cellular or Internet connection. The app skyrocketed to popularity during Hong Kong's pro-democracy protests, and Open Garden, the company behind FireChat, recently announced that it has received a $10.8 million round of financing, led by venture capital firm August Capital.
The round of funding closed in early March, around the same time that FireChat was introduced, but was not disclosed for "competitive purposes." Open Garden chief executive and co-founder Micha Benoliel tells The New York Times that Open Garden is seeking to raise even more capital, with a goal of more than $30 million at a valuation of "several hundred million" dollars, substantially higher than the valuation of $41 million with the round of funding in March.
To build that value, the company plans to forge partnerships with app developers in "key mobile growth markets," with the press release citing interest in India, Latin America, and Asia. VentureBeat learned that Open Garden plans to release an API and an SDK in the next two to three months. Howard Hartenbaum, the partner at August Capital who led the investment, said, "There's been a lot of promise with mesh networking, but this is the first company to get it working at scale."
Scale is a benefit that FireChat clearly has on its side. When Open Garden first launched in 2012, the company focused on apps that enabled smartphone users to share their connectivity with others. But its first big hit was FireChat, which was a huge success with protesters in Hong Kong, students participating in the Sunflower Movement in Taiwan, and attendees at the Burning Man festival in Nevada. Globally, the app has been installed by approximately five million users.
The existing infrastructure of the Internet is weak
In a Tech Cheat Sheet interview with Benoliel in November, he said that 100,000 people signed up to use FireChat within the first 24 hours of the Hong Kong protests. A total of more than 500,000 users signed up during the first week of the protests. The app saw two million chat sessions occur in the city of Hong Kong alone, compared to 1.3 million tweets sent worldwide about the protests. Benoliel notes that while tweets are capped at 140 characters, FireChat's chat sessions sometimes include thousands of people, and the average length of a session was a minute-and-a-half — illustrating that FireChat served as a compelling communication channel for thousands of users who feared a government shutdown of cellular networks or a widespread block of social media apps.
The infrastructure of the Internet is weak: Vulnerable to surveillance, apt to fail during natural disasters, and able to be shut down by repressive governments. It is also expensive to access, especially for new users in emerging markets. The Internet as most people think of it relies on the central access points of Internet service providers (ISPs). But mesh networks decentralize the Internet, connecting devices directly with one another, without passing information through a centralized authority.
Because the smartphones aren't endpoints of the network — and instead act as nodes within it, passing traffic to each other — mesh networks are resilient. They can be brought down only by shutting down every device in the network, and they preserve the confidentiality of communications. Because mesh networks can't be monitored or regulated by third parties, they enable communities of users to build the kind of Internet they want to have, and Benoliel thinks that FireChat will take off in many cities that, like Hong Kong, have a high population density and a high penetration rate of smartphones.
Mesh networking will become crucial to a growing mobile Internet
Open Garden states that its mission is to fix the mobile Internet — which many would consider a moving target given how profoundly Benoliel envisions it changing in the coming years. He notes that the number of smartphones used globally is exploding; a recent forecast by IDC projects that 1.4 billion smartphones will be shipped in 2015, and almost 1.9 billion units will be shipped in 2018. Mesh networking will enable communities of users to create localized networks that are decentralized from the existing Internet infrastructure. Benoliel envisions that in coming years, the Internet will consist of the current large, central network, as well as "disparate networks that will work in clusters."
These localized networks will be especially crucial in growing markets because, as Benoliel explains, "shipments of smartphones are moving faster than the capacity of infrastructure to serve them." Expanding traditional mobile infrastructure requires considerable investments of time and money, and in many emerging markets, people can afford smartphones but can't afford connectivity. Mesh networking, Benoliel thinks, is the solution to that problem.
"More people will be on the Internet on mobile than on any other devices," he says. "Mesh networking will provide the first experience of connectivity for people who can afford a phone but not connectivity." FireChat, for example, can get Internet newcomers online by connecting them directly with other smartphone users around them, bypassing ISPs as the traditional gatekeepers.
Open Garden originally built FireChat as a proof of concept to illustrate the power of mesh networking, according to Gigaom, or as a "demo app," as Benoliel referred to it. And demonstrate its power it did, taking off as a clear and accessible way for people to message others (within WiFi or Bluetooth range) without a cellular or Internet connection. Benoliel looks forward to the widening use of mesh networking for more everyday Internet activities. Today, he notes, mesh networking technology is changing messaging. In the future, its applications will extend to other verticals — from search to content delivery to gaming.
"In gaming, for example," he notes, "you could have a group of people in a place with no access to a mobile network, no router, but they can start to play a game locally." Benoliel even considers a form of payments that would work independently from the Internet a possibility with mesh networking. He says such a system could provide users with "a very easy way to exchange value between people," one that's safer than cash and the other payment methods we currently use.
Mesh networking can also serve as a way to preserve the openness of the Internet — a pursuit crucial to the maintenance of net neutrality. Benoliel explains:
When we started the company, we always wanted to advocate net neutrality, access to information. What you want is to preserve the integrity and the level of innovation happening on the Internet. A big reason why the Internet is so successful and so widely adopted is because it creates the right conditions for innovation and creation.
In the release announcing Open Garden's funding, Benoliel explains his confidence in the approach his company takes to ensuring that those conditions only improve. "The writing is on the wall. Peer-to-peer networking is the future of the mobile Internet," he says. "FireChat's popularity is an early indicator of an impending massive disruption. People and communities around the world now understand that their phone and a free app is all they need to create 'their own Internet,' independently of existing infrastructures and powers."
Benoliel tells Tech Cheat Sheet that creating a network that's independent of that infrastructure and authority is a powerful ability, one that will enable communities of users to build "the Internet of us." As the technology evolves, mesh networking is likely to become a pervasive way of communicating that doesn't depend on ISPs, wireless carriers, and the good intentions of governments. FireChat and the mesh networking technology it demonstrates provide users with the promise of a better, more open Internet — one that challenges both technical limitations and the social expectations about the architecture of the networks we use to communicate everyday.
More from Tech Cheat Sheet:
Want more great content like this? Sign up here to receive the best of Cheat Sheet delivered daily. No spam; just tailored content straight to your inbox.