How Free Mobile Games Make the Most Money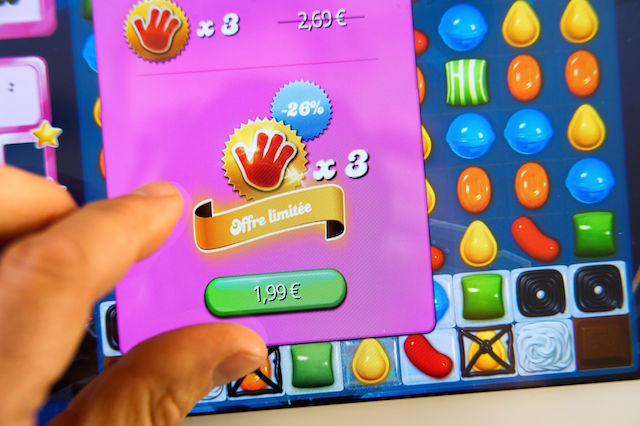 Games that are free to play and rely on optional in-app purchases are a wildly popular — and successful — breed of mobile games in the iOS App Store this year. Recent figures from Apple indicate that so-called freemium mobile games dominated App Store revenues in 2014, showing that developers are capitalizing on what has become the new standard in mobile games: offering games whose initial downloads and installs cost nothing, but engage large numbers of users, who take advantage of a variety of paid add-ons, like in-app purchases of virtual currency of other in-game items.
This year, freemium games were the most profitable games in the App Store. Apple recently released its "Best of 2014″ list of the most-downloaded and highest-grossing titles in the App Store. As Apple Insider notes, games dominated iOS App Store downloads in 2014, with Heads Up! coming in as the top paid app for iPhone and Minecraft — Pocket Edition ranking as the top paid app for iPad. The rankings for the top paid apps for iPhone and iPad included a number of other games, including Plague, Cut the Rope 2, Bloons TD 5, A Dark Room, The Room Two, Survivalcraft, Terraria, Plants vs. Zombies HD, Hide N Seek: Mini Game With Worldwide Multiplayer, and Card Wars — Adventure Time Card Game.
But the rankings of the top-grossing apps of the year were comprised of a largely different set of apps — ones that don't charge users for the initial download of the app. The chart of top-grossing apps was dominated by freemium games. The highest-grossing app of the year for both iPhone and iPad was Clash of Clans, a popular game that follows the freemium model. According to Apple's rankings, games featuring in-app purchases accounted for nine of the top ten grossing apps for iPhone, and ten out of ten for iPad.
The 25 top-grossing apps on the iPhone this year are: Clash of Clans, Candy Crush Saga, Game of War — Fire Age, Pandora Radio, Big Fish Casino, Hay Day, Farm Heroes Saga, Pet Rescue Saga, Slotomania, Kim Kardashian: Hollywood, Boom Beach, The Simpsons: Tapped Out, Zoosk, The Hobbit: Kingdoms of Middle-earth, DoubleDown Casino, MARVEL War of Heroes, Brave Frontier, Modern War, Minecraft — Pocket Edition, The Sims FreePlay, myVEGAS Slots, Puzzle & Dragons, Zynga Poker — Texas Holdem, Underworld Empire, and Skype for iPhone – primarily freemium games.
But the rise of the freemium model to the top of the App Store hasn't always been a smooth rise. Building an engaging and robust freemium game is a challenge, and Emil Mouhanna of Akamai Technologies tells VentureBeat that while freemium games can effectively level the playing field when it comes to the time and skill that players need to invest to excel in a game, developers need to think about more than just democratizing gameplay. They also need to consider how to balance the equation between challenge and incentive. "It's giving gamers an opportunity to apply themselves without spending any money — or to spend some money and potentially have the same kind of layout as somebody who's really good at the game," Mouhanna notes.
The freemium model, executed correctly, doesn't just democratize play, but engages players of all levels and coaxes them to keep playing. As they continue playing, users can choose to make small purchases of currency, levels, add-ons, and items that will help them advance in the game or customize their experience with it. Some games even enable users to purchase expansions that add new adventures or hours of gameplay to what originally was a simple base game.
Games — freemium or not — need to be engaging and interesting to get people to want to play and keep playing, and developers also need to take precautions to make sure that games that are free to play don't devolve into "pay to win" games. Instead, optional content and in-app purchases should level the playing field or enhance the experience, not be a necessity to advance or win the game.
The freemium model has come under fire both from consumers and developers, with many arguing that while it's helped large studios rake in massive revenues, it isn't a model with which independent developers can thrive. While small app developers are often more able to adapt to evolution in the marketplace than larger players, the model can make it harder for small developers to make enough money from their games, even when easy payment methods are put into place to maximize impulse buys of in-app currency and items.
Additionally, when players get used to downloading and installing games for free, it becomes a harder sell for developers to entice players to pay for games. Revenues even from premium games that are promoted by the App Store come nowhere near to matching the revenues brought in by freemium games, as demonstrated by the charts from the iOS App Store. For many consumers, freemium games are also frustrating in that they can't "have it all" — in terms of all the possible items, levels, or characters — without spending actual money on a game, something that many players are loath to do. Users often balk when a game costs any money to play, and the vast majority of successful games are free, supported by advertising and in-app purchases.
More from Tech Cheat Sheet:
Want more great content like this? Sign up here to receive the best of Cheat Sheet delivered daily. No spam; just tailored content straight to your inbox.