How Microsoft Plans to 'Be Everywhere' on Mobile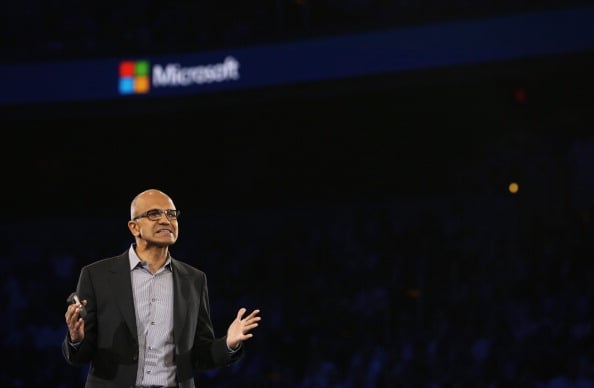 Though the Windows operating system dominated the computing world for decades, everything has changed with the rise of mobile devices. While its own attempt at a mobile operating system with Windows Phone is largely a failed attempt, Microsoft isn't giving up on mobile just yet. Instead, the company is looking at mobile a different way, and will look to find a measure of dominance in the mobile world with a different kind of software: apps.
Apps are the future of Microsoft's mobile business
At a time that few consumers carry a Windows Phone — and those who do complain about the dearth of apps available on the platform — Microsoft is still aiming to find a way into every consumer's smartphone or tablet. Quartz's Dan Frommer reports that in a recent meeting, a Microsoft executive told him, "We're going to be everywhere." And Microsoft's strategy to achieve that goal isn't hardware or even an operating system, but mobile apps.
ComScore's latest U.S. Mobile App Report showed that only one app by Microsoft (Skype) made it into the top twenty-five by unique visitors, as opposed to Google's six (YouTube, Google Play, Google Search, Google Maps, Gmail, and Google+) and Apple's two (Apple Maps and iTunes Radio/iCloud). But Microsoft is looking to change that. Frommer notes that Microsoft's Office apps for iPad have been downloaded more than 35 million times, and Word often ranks within the top ten iPad apps. OneDrive, Word, and Outlook are featured in the "Popular" section of Google's Chrome app store, and Word has also shown up in the "Featured" section.
While many, even Microsoft itself, have framed the company as an underdog in a market where it accounts for only 14 percent of global smartphone, PC, and tablet sales, Microsoft is acknowledging that fact that it needs to develop products for the platforms that the majority of consumers use on a daily basis. In April, chief executive Satya Nadella launched Microsoft Office for iPad and announced that the company would stop charging fees for manufacturers to use its operating system on some smartphones and small tablets. Because Microsoft has traditionally relied on revenue from licensing its software in exchange for one-time fees, the move made it clear that its strategies are shifting.
Windows Phone is irrelevant
A recent IDC report showed that Windows Phone had only 2.5 percent of the global smartphone market in the second quarter of the year, down from 3.4 percent the previous year. Last quarter, Android and iOS combined had 96.4 percent of the global smartphone market, and that number should make it clear that Windows Phone will be largely irrelevant to any future that Microsoft creates for itself in mobile.
Microsoft's failure to create a successful mobile operating system is a huge miss, and represents a loss not only of potential hardware revenue, but also a loss of a direct platform to distribute its software and services to consumers. Frommer notes that Apple and Google both use their mobile operating systems to get consumers into their ecosystems, and turn Android or iPhone owners into valuable purchasers of software, services, and media. Many of those apps and services are even pre-installed on smartphones — everything from map software to each platform's app and media stores to the relevant cloud storage and backup services.
Microsoft can't effectively do that, so it's doing the next best thing: building apps for Android, iOS, and the web. Microsoft is looking to get more users to sign up for its subscription-based cloud services, like Office 365, because they make the productivity software that most people have grown accustomed to using available on just about any device. That would see Microsoft's business model shifting from a reliance on one-time licensing fees toward revenue from subscriptions (for individual consumers and for businesses).
Quartz notes that Microsoft had 5.6 million Office 365 home and personal customers at the end of June, up a million from the previous quarter, so it appears that the services are beginning to catch on. However, Microsoft still faces a lot of unknowns. It's unclear how big of a business the cloud services will be, and how many customers will choose to stay with Microsoft productivity products instead of switching to those offered by Google, Apple, and other competitors like Dropbox.
Unlike at the height of Microsoft's dominance, there are other players with full, functional ecosystems of comparable apps and services. To keep Office ubiquitous — and extend that ubiquity to get it onto the majority of smartphones and tablets — Microsoft will have to differentiate itself from the competition and make its productivity software more functional and easier to use than the alternatives. Whether it can succeed in pushing its Office apps to the top of app store charts remains to be seen, but the company doesn't seem to have many other choices if it still wants to find a way to profit from all of the smartphones and tablets it isn't selling.
More from Tech Cheat Sheet:
Want more great content like this? Sign up here to receive the best of Cheat Sheet delivered daily. No spam; just tailored content straight to your inbox.