How Mobile News Apps Change the Way We Get Information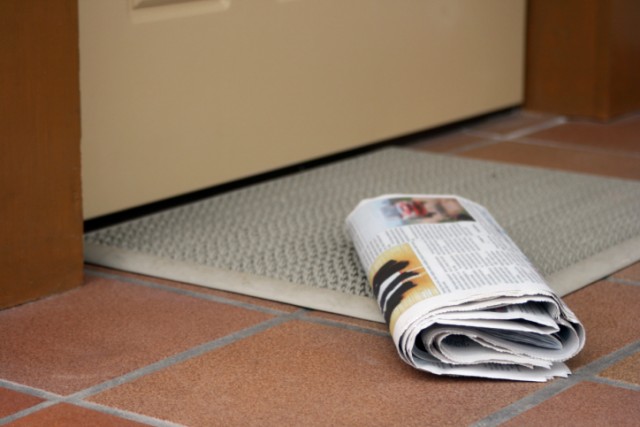 You don't have to look far to find evidence that smartphones and mobile apps have changed the way that we communicate, find information, and discover news about the communities around us or across the globe. Some of the best evidence for that is found in the recent Reuters Institute Digital News Report 2014, which sought to measure the impact of new technology on our consumption of online news around the world.
Reuters surveyed 19,000 people in 10 countries and found that over a third of the survey's global sample — 37 percent of users — used smartphones to access the news each week. Twenty percent accessed news from a tablet. And as devices become less expensive, users access news from more of them, with 39 percent of those who use digital devices for news accessing news from at least two devices, and 12 percent accessing news from three or more devices.
In the U.S., 31 percent of users accessed news via a smartphone, up from 28 percent in 2013. Twenty percent of all device users said that a smartphone is now their main way of accessing news, and 10 percent use a tablet as their primary access. Here are a few of the survey's findings, which reveal the deep impact that mobile tech has had on the way that we seek information about the world.
Many prefer apps, versus mobile websites, to access news
The use of news apps versus mobile websites varies from country to country, and is correlated with what type of phone is owned by the majority of users in the country. In the U.K., where many people use Apple (NASDAQ:AAPL) iPhones, 50 percent of smartphone users say they mainly use apps to access news. By contrast, in Finland, Nokia (NYSE:NOK) phones are dominant, and only 30 percent used apps for news. News apps are proportionately used more on smartphones than tablets, while in the U.K., 48 percent preferred mobile websites to access news on a tablet, versus only 37 percent who used apps.
Apple users are more likely to pay to access news
Apple users are considerably more likely than others to access news on their smartphones and tablets, and are also more likely to pay to access news. In the U.S., Apple users were 1.5 times as likely to pay for news than users of other operating systems, and in the U.K. they were were twice as likely. Eleven percent of the global sample paid for access to online news in the last year, and 59 percent of those users make ongoing payments in the form of a subscription to access a news source like The New York Times orThe Wall Street Journal in the United States.
Getting users to purchase a subscription depends on users' desire to access content anytime on any platform, plus their fear of not being able to access that content for free. Retaining subscribers depends on providing a good experience to readers as they access the content, and the subscription process serves to reinforce the value of the brand and its writers.
Accessing news on a smartphone encourages reliance on fewer sources
Users rely on a narrower range of news sources when accessing news on a smartphone than they do on a computer or even a tablet. Thirty0seven percent use a single source each week when accessing news on a smartphone, significantly higher than the 30 percent who rely on a single source when accessing news via a desktop or tablet. This "smartphone effect" on users' news access habits benefits trusted sources of breaking news and puts aggregation services like Yahoo at a disadvantage.
It's also bad news for new platforms looking to gain a loyal readership. As has recently been discussed with mobile apps in general, users have a finite amount of time to spend with mobile apps. In the case of news apps, they're currently limiting that time to a small number of apps.
Social networks play varying roles in the sharing and discovery of breaking news
Thirty-five percent of the global sample reported using Facebook (NASDAQ:FB) to access news, ahead of the 15 percent who used YouTube (NASDAQ:GOOG)(NASDAQ:GOOGL), the 9 percent who used Twitter (NYSE:TWTR), and the 7 percent who used Google Plus. Twitter is used widely in the U.S., where newspapers and news channels have popularized its use in news. Users of all ages reported Facebook as a news source, while Twitter was mainly used by younger users.
Facebook users are less likely to click through to read a news story than Twitter users are, but they are more likely to click on a news video. Approximately 50 percent of Twitter and Reddit users access news through those platforms each week, higher than any other social networks.
Additionally, methods of news discovery differed by country, with users in the U.K., Denmark, and Finland — the countries with the strongest news brands — starting with a trusted news provider, versus users in France, Germany, Italy, the U.S., and Brazil starting with search. However, 56 percent of search queries related to a particular website, and Reuters terms those searches "pass-throughs" to a specific brand.
In the U.S., 33 percent of users discovered news stories via a specific brand's website, 40 percent via search, 28 percent via social, and 27 percent via email. Thirty-five percent of U.S. users shared a news story via email or a social network, lower than the 54 percent in Brazil, where the behavior is most common, but significantly higher than the 10 percent in Japan.
Visual journalism is (slowly) on the rise
Newspapers, broadcast networks, and digital-only platforms use photos, data-based charts, animated GIFs, and videos to catch the attention of social media users and to attract advertising dollars. Globally, most users prefer traditional text articles and lists, with 70 percent consuming news exclusively or primarily via text. This is also an area of weakness for smartphones, with 24 percent of users reporting that they would rather watch videos on a larger screen than their smartphone.
These are just a few of the insights from the Reuters Institute Digital News Report, but they point toward the trends that underpin our interaction with news providers. Other findings, slightly less relevant to the impact of mobile technology on our news consumption habits, include the fact that U.S. users are interested in brands and writers that are open about their own views and biases, versus the European tendency to favor outlets that try to remain impartial.
Additionally, "social sharing news sites," like The Huffington Post, Buzzfeed, and Upworthy, are gaining traction. A new category, weird news, is as popular, and in some areas even more popular, than entertainment news. Both of these point to the growing success of platforms aimed at younger users.
As the Reuters report points out, the shift toward mobile news access is just beginning: "With many news organisations now getting the majority of their web traffic from mobile and tablets there is a growing realisation that this is just the start of a new wave of disruption. The smartphone is pushing the internet into a more personal space and extending our access points for news and information. Tablets are offering new possibilities for monetisation but in these converged multimedia spaces news is just one form of content competing for attention with all the rest."
While trusted brands and writers have an advantage, they'll need to look to new ways to deliver their content and remain relevant to users. They'll need to find ways to cater both to young users, who embrace the experience of checking a news app or staying up to date via push notifications, and to older users who drive revenue, but consume and share news in more traditional ways.
More From Wall St. Cheat Sheet:
Want more great content like this? Sign up here to receive the best of Cheat Sheet delivered daily. No spam; just tailored content straight to your inbox.