How Much Did Apple Cough Up to Silence China?
It's no secret that Apple's (NASDAQ:AAPL) reputation was battered in China earlier this year by various critical news stories from official government media outlets. Although Apple seems to have reached a détente in its relationship with the Chinese government, the question remains: how much did Apple's China troubles cost the company?
In its latest 10-Q filing, Apple states, "Accruals for product warranty for the three months ended March 30, 2013 include $414 million associated with product sales in prior fiscal periods reflecting the impact of changes to certain of the Company's service policies and other estimated warranty costs." This is widely believed to refer to the warranty adjustment that Apple made in China in order to appease its government detractors.
Excluding this one-time expense, Wells Fargo (NYSE:WFC) analyst Maynard Um calculates that Apple would have declared a profit margin of 38.4 percent, rather than 37.5 percent. In this sense, Apple's China troubles cost the Cupertino-based company almost 1 percent of its total profit margin.
The cycle of negative Apple news stories in China's media was initiated in March of this year, when a state-run China Central Television program accused Apple of giving Chinese customers a lower level of post-sales customer service than it gives to customers in other markets around the world. After Apple failed to give much of a response to this criticism, the Chinese government followed up with several other attacks.
In late March, the government-owned Shanghai Animation Film Studio filed a lawsuit against Apple, alleging that the California-based company has been illegally selling its films through its iTunes Store. Around the same time, China National Radio reported on a bulletin from the State Administration for Industry and Commerce that reiterated the need for consumer's rights to be protected from companies like Apple that have allegedly violated the law.
Apple finally put the controversy to bed when it posted an apology on its Chinese website on Monday, April 1. In an apology that was signed by CEO Tim Cook, Apple stated that "we are aware that a lack of communications…led to the perception that Apple is arrogant and doesn't care or attach enough importance to consumer feedback. We express our sincere apologies for any concerns or misunderstandings this gave consumers."
The apology was free, but Apple paid a substantial financial cost in order to shut down criticism of its operations in the world's second largest economy.
Here's how Apple has traded so far this week.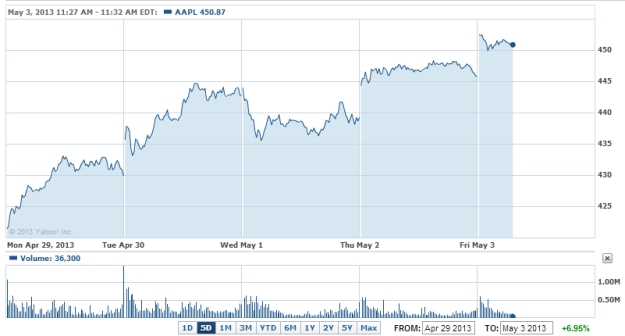 Don't Miss: BlackBerry's Too Quick For Apple With This Special Client.