How Much Is a Piece of Apple's History Worth?
A rare piece of technological history will go on sale later this month in the form of Apple's (NASDAQ:AAPL) original personal computer.  German technical auction team Breker will put one of the few operational Apple-1 computers in existence on the auction block, where it is expected to fetch somewhere in the range of $261,000 to $392,000.
The Apple-1 debuted in 1976 and was considered a groundbreaking step forward since it included a fully assembled circuit board. It originally retailed for the odd price of $666.66, although users could upgrade the memory with a $72 cassette storage add-on.
In the days of do-it-yourself computer assembly, this stripped-down Apple machine didn't include a power supply, keyboard, monitor, or even a casing. Only 200 of these rare units were ever produced and approximately 50 are estimated to be in existence today.
Besides the obvious historical value of such a rare technological artifact, there are charming personal touches from two of Apple's original co-founders. The computer was assembled by Steve Wozniak in Steve Jobs' family garage. A letter to the original owner from Steve Jobs offers to upgrade the Apple-1 to the Apple 4K II for a $400 fee. Under the motherboard is a "Woz" mark from Steve Wozniak.
This isn't the first piece of Apple's vaunted computer history to pull in major dollar amounts. British auction house Sotheby's has previously sold an Apple-1 for $374,500 and Breker sold an Apple-1 for a record-setting $640,000 last year. Maybe it's not always the best policy to constantly upgrade your computer products.
Somewhere Steve Jobs is smiling.
Here's how Apple has traded so far this week.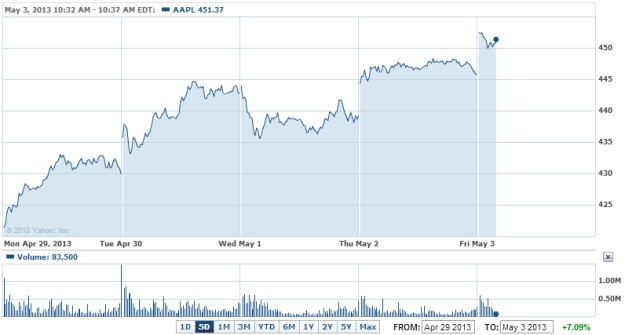 Don't Miss: Will Apple and Samsung Get Pentagon Clearance?