How Much Money Is There For Facebook In Mobile Advertising?
Facebook (NASDAQ:FB) stock climbed as much as 1 percent on Friday afternoon despite equivalent losses in the NASDAQ. With this as punctuation, shares of the social network are looking to log five-day gains of more than 6 percent, fueled by the launch of Facebook Home and buoyed by a bullish report on its mobile ad revenue prospects.
The two developments fit hand in hand and are flanked by a battery of positive market and analyst reaction. Facebook Home is the company's latest weapon in the fight for mobile usage. Best described as a set of features that blur the line between application and operating system, Facebook rolled the product out on Thursday. Facebook Home will make its first appearance on an HTC phone running Google's (NASDAQ:GOOG) Android mobile OS.
Home is designed to capture lucrative mobile usage minutes. It effectively creates a one-stop portal for socially-inclined users. When all is said and done and Home is fleshed out, it will allow people to search, shop, and communicate using nothing but the Facebook platform. The company is essentially refining a method of getting people to use Facebook all of the time.
And this, of course, is good for ad revenue…
The same day that Facebook unveiled Home, eMarketer published a report suggesting that Facebook, already the number-two ad publisher in the country, will increase its mobile-ad revenue from $390.9 million in 2012 to $1.86 billion in 2017, a 376 percent increase.
This explosive growth sits against a backdrop of tremendous growth for mobile ad spending in general. For the same period, total U.S. net mobile ad revenues are expected to increase 293 percent, from $4.1 to $16.2 billion.
Not to be left out, Google is expected to remain king of mobile-ad revenue with over half of the market share in 2015. In that year, Google is expected to earn more than $9 billion from mobile advertising.
Pandora (NYSE:P) claimed the third-place slot in the eMarketer report, and is expected to earn $748 million in mobile ad revenue in 2015.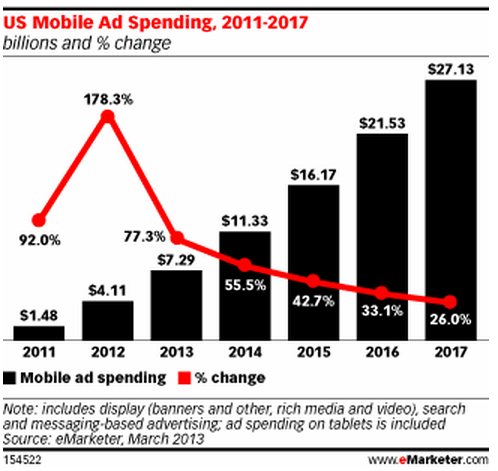 Don't Miss: Here's What Mark Zuckerberg's Tax Bill Looks Like.