How Much Would You Pay for a Cup of Coffee with Apple CEO Tim Cook?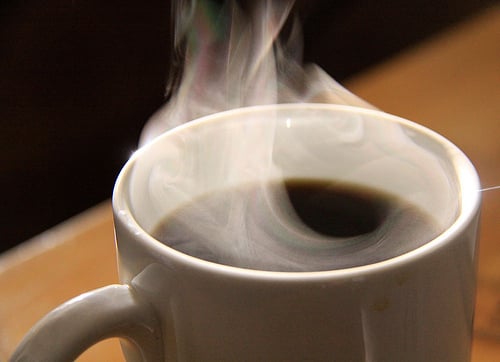 Without a doubt, there are many Apple (NASDAQ:AAPL) fans and tech business entrepreneurs who would be happy to buy Apple CEO Tim Cook a cup of coffee for the chance to pick his brain over the latest Apple products in the pipeline. The only question is: how much would you be willing to pay for this cup of hot java?
An ongoing charity auction that offers the chance to take a coffee break with the CEO of the Cupertino-based technology company is providing an exact figure of just how much money some people are willing to drop for the privilege. At the time of this writing, the highest bid currently stands at $605,000. However, you can easily jump to the front of the bidding line if you are willing to plunk down $610,000. If you need a little extra time to get your funds together, don't worry; the auction will remain open until May 14.
The auction is being managed Charitybuzz, a for-profit internet company that specializes in raising funds for nonprofit organizations through online charity auctions that typically feature experiences with celebrities. This particular auction will benefit the Robert F. Kennedy Center for Justice and Human Rights.
Although $605,000 may seem a bit steep for a one-hour coffee session, you can always split the cost with a friend. According to the legal terms on Charitybuzz's website, the offer is "valid for 2 people." However, after settling on a "mutually agreed upon date" with Cook, you will still have to find your own way to Apple headquarters in Cupertino, California. No word on what kind of coffee Apple serves in its food court.
Apple closed up 2.16 percent, or $8.82, at $417.20 on Friday. The chart below shows Apple stock movement throughout the past week.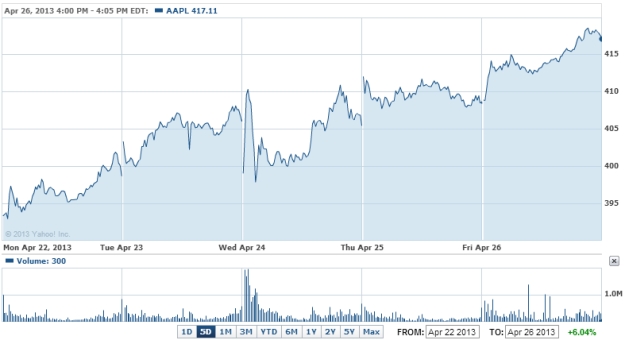 Don't Miss: Are Macs Better Than PCs at Being PCs?