How Our Smartphones Will Take Us Into Virtual Reality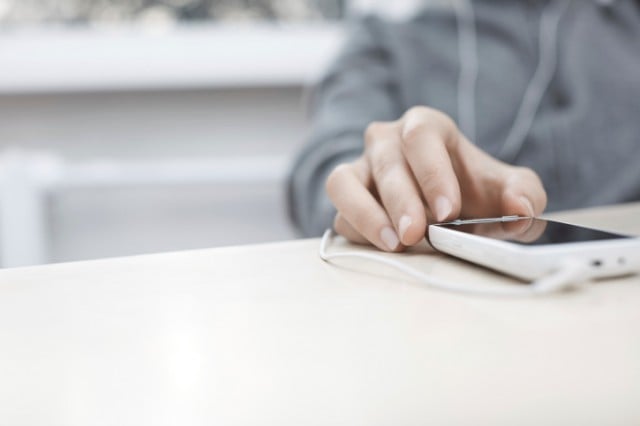 For tech enthusiasts and science fiction lovers alike, virtual reality is the next big thing — an exciting innovation on the cusp of becoming a reality for the general consumer. And while costly and complex computer-based virtual reality systems once seemed like the future of the industry, it now seems that the virtual reality systems that most consumers will experience will run on a much more affordable platform: The smartphone.
Re/code's Eric Johnson reports that the virtual reality industry originally focused on PCs because they are strong, upgradeable machines that can pair with a headset to create a powerful immersion in a virtual world "at a not totally outrageous price." But the actual arrival date for PC-based virtual reality systems is unclear. While Oculus and Sony have announced headsets for the PC and the PlayStation 4, neither has committed to a definitive release date or even a price.
The delays and challenges faced by PC-based virtual reality systems make it more and more likely that most consumers' first experience with virtual reality won't take place on a PC-dependent set. Instead, it seems that smartphones will be the platform for most consumers' initial experience with virtual reality technology, and Re/code reports that no fewer than 12 headsets based around phones are either available to buy or to preorder, with more to come.
Johnson argues that smartphone-based virtual reality experiences will not only be more convenient than those dependent on PCs, but that the near-ubiquity of smartphones will make it easier for consumers to adopt what currently remains a very niche genre of entertainment. And many smartphones already feature the sensors necessary to enable an adequate virtual reality experience.
Johnson also notes that while users of smartphone-based virtual reality systems won't be able to walk around in a virtual world, they will be able to experiment with an app or a game and then pass the headset to a friend nearby, sparking what he terms "real-world virality."
Patrick Buckley, cofounder of a company named Dodocase that sells a $25 kit for assembling a simple virtual reality headset based on Google Cardboard, told Re/code, "It's going to take a lot of people experimenting with this technology to really figure it out. The more people that have it, are playing with it, the faster we're all going to learn how to really use it." With the Dodocase headset, users open VR content on their smartphones, place the smartphone in a slot in the front, and hold the Dodocase up to their eyes. Buckley told Johnson that the Dodocase  is "a basic VR experience, but it's enough to give people a taste of what it's like." Buckley compared virtual reality today to the Internet in 1991, and said that in the past four months, Dodocase has sold 75,000 cardboard kits.
A higher-end option in mobile virtual reality is the Gear VR, a device developed by Oculus and Samsung and expected to launch in December with a price tag of $200 to $250. However, the Gear VR has been criticized because the initial version will be compatible with just one smartphone — the Samsung Galaxy Note 4 that costs $300 with a contract or at least $800 without one.
While Oculus mobile vice president Max Cohen praised the Samsung partnership for its ability to let the two companies control the experience and how the phone will handle virtual reality content (and said that the higher price would help ensure technology that will keep users more comfortable and less likely to feel ill), Cohen doesn't think that the mobile virtual reality market is competitive right now. He told Re/code, "The market is so early that right now, any sort of VR enthusiasm is a great thing. It's not just that the market's small, it's that it's unknown."
But before virtual reality can gain traction with consumers, it will need to gain adoption and interest among developers. The VR One headset, made by Carl Zeiss in partnership with German app engineering firm Innoactive. The $100 headset works with an assortment of high-end smartphones, and ships with the customer's choice of a holder for the iPhone 6 or Samsung Galaxy S5. Zeiss senior product manager Franz Troppenhagen told Re/code that the headset comes with a few apps made by Innoactive, and a "media launcher" that will aggregate virtual reality content from the two major app stores. He says that the company has so far collected 150 virtual reality apps on Android and 30 on iOS.
As Re/code reports, all the "VR guys" are tackling the critical task of increasing the number of virtual reality apps and developers. Dodocase is running a Kickstarter campaign to fund the development of open, web-based software development tools for virtual reality. Zeiss is planning a developer contest that will coincide with the VR One rollout. And Oculus has released a mobile software development kit to get content into the Gear VR's app store.
As enthusiasm for virtual reality hardware and software builds, Facebook and Samsung aren't the only tech giants showing interest. 9to5Mac reported recently that a job listing posted by Apple hints at an interest in developing apps for virtual reality experiences. Apple is seeking app engineers with experience in 3D graphics, virtual reality, and augmented reality. The listing says that the company is seeking developers to build user interfaces and "high performance apps that integrate with Virtual Reality systems for prototyping and user testing."
It's unclear exactly what "virtual reality systems" the job listing refers to, and whether the company plans to work with third-party hardware or create its own virtual reality hardware. As 9to5Mac points out, a growing number of virtual reality headsets are already compatible with the iPhone, but Apple has also been granted a number of patents referring to virtual and augmented reality inventions, most notably a headset that looks similar, in form, to the Oculus Rift.
All virtual reality systems — from high-end, hardcore headsets to less expensive, more lightweight solutions — will require the support of developers to build apps and experiences that make users want to try virtual reality and purchase the hardware. Virtual reality's best chance of gaining traction with both developers and consumers will be on the smartphone, where the highest number of consumers will be able to access and experiment with it.
More From Tech Cheat Sheet:
Want more great content like this? Sign up here to receive the best of Cheat Sheet delivered daily. No spam; just tailored content straight to your inbox.