How Secure Are Your Social Media Accounts?
Are you confident of the security of your social media accounts? Numerous, high-profile social media accounts have been hacked recently, including the Twitter account of the Associated Press. The AP hack actually sent the stock market plunging momentarily, before traders realized the tweet — that claimed the White House had been bombed and President Obama was injured — was a complete fake. Twitter has introduced two-step verification since then, and now LinkedIn (NYSE:LNKD) has followed suit.
Below are instructions from LinkedIn on how to set up two-step verification on the website.
What exactly is two-step verification? It's a method of ensuring that someone logging into a social media account from an "unauthorized" device — be that a computer, smartphone, or tablet — is the owner of the account. Two-step verification does this by requiring a second method of verification besides a password. Normally, the second verification method is a cell phone. When the cell phone is set up as an authorizing device, an SMS (text message) is sent to it with a unique code. The code is then entered on the website during the two-step verification process. When a new, authorized device is added to the list for an account, a new, unique code is sent via SMS to the cell phone linked to the account.

It is actually surprising that Twitter only recently added two-step verification as an option, and that LinkedIn has just started offering it. Facebook (NASDAQ:FB) and Google (NASDAQ:GOOG) have been offering two-step verification for quite some time now. LinkedIn suffered a massive data breach last year that resulted in millions of account passwords being stolen. Do you use two-step verification for your social media accounts? If not, they are probably less secure than you realize. Unless HTTPS (a more secure version of the common HTTP protocol) is enabled, hackers can sit on the same WiFi network as you and siphon your website passwords while you browse.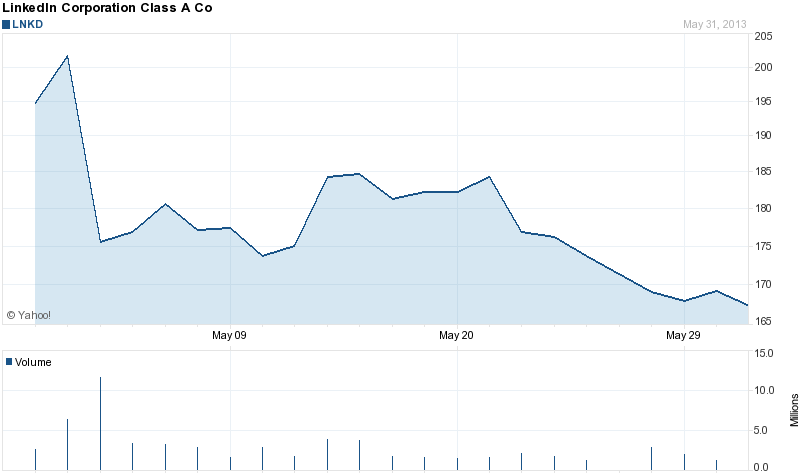 (Graph: Yahoo! Finance)
Follow Mont on Twitter @mfcessna
Don't Miss: Will LinkedIn Continue To Be A Hot Stock?