How to Update an Android Phone
If you own a smartphone, chances are that your device is running a version of Android, the open source mobile operating system developed by Google. Besides the many older versions of Google-created Android software, there are also many so-called "forked" versions of Android that have been customized by various smartphone manufacturers. These include operating systems such as Amazon's Fire OS, as well as many other versions developed under the auspices of the Android Open Source Project. According to ABI Research, forked versions of Google's Android account for 20% of the total smartphone operating system market.
While Android may be handily beating Apple and other competitors in terms of market share, the open source operating system is struggling in the battle against malware. With so many mobile devices running older versions of Android that may still have vulnerabilities to malware, it is especially important for Android users to update their smartphones to the latest version of this operating system. Here's how you can make sure that your smartphone is updated with the latest available version of the Android operating system.
The smartphone maker matters
Before we get to the process of updating your Android-based smartphone, it should first be noted that your ability to update may be limited by the maker of your device. In general, the newer, high-end smartphones made by well-known companies are more likely to offer the ability to upgrade Android than the low-end devices made by lesser known companies.
One notable exception to this general rule is Google's line of Nexus devices. Since those devices were specifically released in order to showcase Google's unaltered version of Android, your Nexus smartphone should prompt you to upgrade your software whenever a new version is released. Another exception are any low-end devices branded with Google's Android One platform. Google has indicated that it will also be pushing out Android updates for those devices as well.
Check your Android version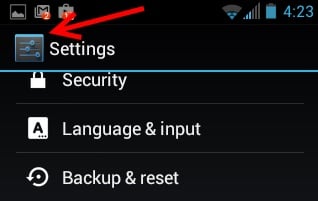 Before you try to update your smartphone, you should check and see which version of Android your device is running. While Android comes in many different versions on a wide variety of smartphones, most devices should feature a Settings icon on the home screen. This icon may be in the shape of a cogwheel, a wrench, or slider switches as seen in the image above.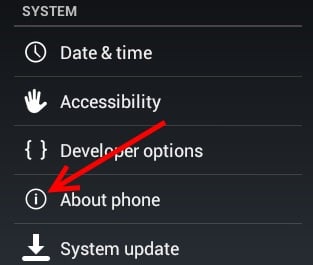 Open the Settings menu and find the About Phone label. The About Phone label may also feature an icon of a circle with a lowercase letter "i" inside of it (see above image). Open the About Phone menu and locate the Android Version label. Beneath this label will be a series of numbers that corresponds to a particular version of Android.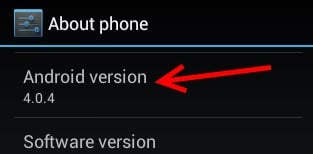 Refer to this Android developer page to determine which version of Android your device is running. For example, 4.0.4 corresponds to Ice Cream Sandwich, a version of Android that was released in 2012. Google's newest version of Android is called Nougat, which is designated with the number 7.0. 
Time to back up
Before you update any device, it's always a good idea to back up your data. Simply connect your smartphone to your computer with a USB/micro-USB cable and save any important contact information, photos, or music files from your device. This will ensure that you don't lose any data in case something goes wrong during the update process.
Request an update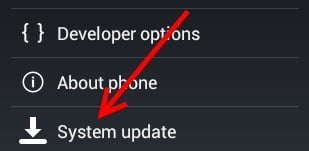 Now that you've verified that your smartphone is running an older version of Android, it's time to update. The easiest way to deliver an update to your smartphone is to use the device's System Update or Software Update function. The System Update option should be located under either the Settings or the About Phone menu. Since this delivers an update directly to your mobile device, you may want to connect to a Wi-Fi network before beginning the update process. This will ensure that you don't incur any unnecessary data transmission fees, since some software updates can be quite large.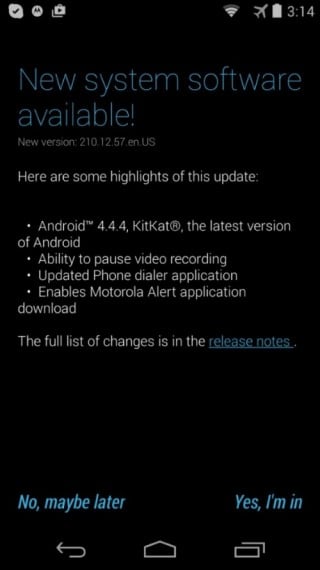 Tapping the System Update button should prompt your device to check for and download any available software updates, as seen in the image above. After the download is completed, you may be prompted to install the upgrade. Simply follow the onscreen instructions. After installation, your device may reboot itself. Verify that you have successfully installed the new version of Android by checking your software version under the About Phone menu.
It should be noted that not all Android-based smartphones will offer this option. If you cannot locate the System Update option under the Settings or About Phone menu on your device, it is most likely that the manufacturer of your device does not provide updates. This means that you will be unable to get the latest version of the Android operating system unless you root your Android smartphone to enable software upgrades.
Other update methods
Most manufacturers that offer Android updates will deliver them via the device's System Update function, as seen in the screenshot above. However, with so many different smartphone manufacturers relying on Android, you may want to check with your particular smartphone maker in order to make sure that you are following the correct software update procedures for your device. The name of your smartphone's manufacturer should be clearly visible somewhere on the casing of your device, while the model number should be listed in the About Phone menu under the Settings tab. Visit your smartphone maker's website and search the model number to learn more about the update process for your device.
Follow Nathanael on Twitter @ArnoldEtan
Follow The Cheat Sheet on Facebook!