Human-Robot Integration: Coming to a Factory Near You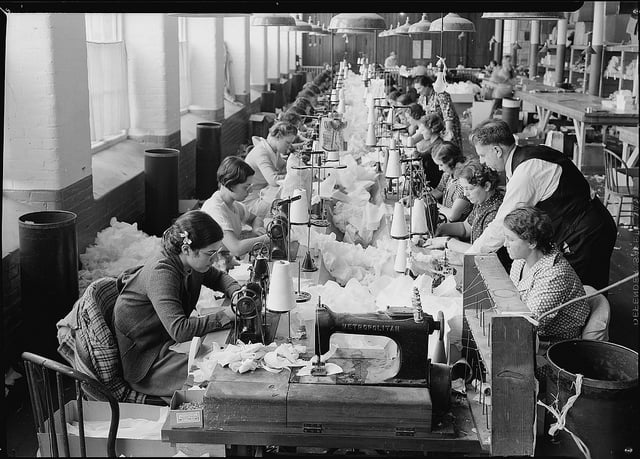 General Motors (NYSE:GM) is among several companies working toward the development of robotics technology that will allow humans to work closely alongside robots without risking safety, with the goal of having robots aid human workers in their jobs rather than replacing humans completely.
Bloomberg reports that GM is working on a 'robo-glove' that will increase the strength of an employee's hand. This type of technology could be used in auto manufacturing, but also has applications in any kind of job that requires repetitive movement which can result in injury. Bloomberg cited the slaughterhouse floor as another place where human-guided robots would be useful to help prevent work-related injuries.
The robo-glove, which looks like a blue snow glove, would create twenty pounds of gripping power with minimal effort and reduce injuries for repetitive and difficult motions, like installing windows into car doors. "Typically we would put up these big gates to keep people and robotics separated," said Scott Whybrew, director for global manufacturing engineering vehicle systems at GM, to Bloomberg. "Human-safe robotics, though, gives us the ability for robots to work side-by-side with the operators."
However, precisely because of the tendency towards accidental injury, robots are typically separated from human workers in factories. According to data from the U.S. Labor Department seen by Bloomberg, robots have caused 20 fatal accidents in the U.S. Some are now working towards determining the force necessary for a robot to bruise a worker as a way to work towards eliminating the current barriers and automatic shutoffs that are used to protect workers from malfunctioning robots at the moment.
Google (NASDAQ:GOOG) and Amazon (NASDAQ:AMZN) have also been making some heavy investments in robotics lately. Google announced its eighth robotics acquisition in the last six months earlier this month, purchasing robotics company Boston Dynamics. The firm is known for making robots with the ability to traverse difficult terrain while maintaining a strong sense of balance and has made research robots for the Pentagon.
Google declines to say what it's planning to do with all that robotics technology. Some speculations include using them for warehouse work and product delivery, and the ability to have their robots work alongside humans would be particularly beneficial. Amazon could use similar technology in its warehouses, and has made highly-publicized claims that unmanned drones could deliver packages in the near future.
More From Wall St. Cheat Sheet:
Follow Jacqueline on Twitter @Jacqui_WSCS