IBM Exec Says Economy Continues to Discourage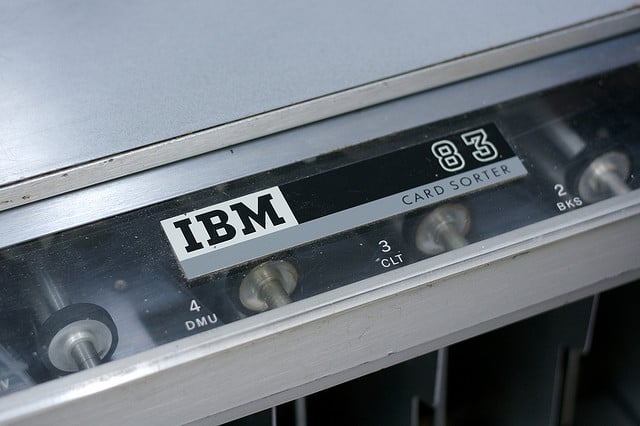 An International Business Machines Corp. (NYSE:IBM) executive said that the company is still facing difficulties linked to a slow economy. Speaking at a Bank of Montreal conference in New York on Tuesday, Senior Vice President Erich Clementi said that IBM will continue to see falling sales figures unless the economy turns around, according to a report from Bloomberg.
IBM's revenue "depends on what the economic climate is, and that has not been very encouraging," Clementi said. "Europe has shown signs of recovery. North America has been a little more uncertain." Clementi added that the company is focusing most of its efforts on cloud computing and software over hardware.
The slump in hardware sales as companies switch to using cloud-based computing services has caused IBM's revenue to decline for the past six quarters, according to Bloomberg.
The company's most recent earnings report showed the damage of a weak economy. IBM's earnings beat Wall Street expectations but fell short on revenue, which dropped 4 percent to $23.72 billion from $24.75 billion in the third quarter of last year. Analysts had expected the company's revenue to remain flat on a year-over-year basis. Lower corporate spending on IT and lack of growth in emerging markets were cited as reasons for the decline. IBM's Asia Pacific operations in particular were a drag on results, as revenue in the region fell 25 percent.
IBM has also been facing some big competition in cloud computing from Amazon.com Inc. (NASDAQ:AMZN). Amazon recently beat out IBM for a $600 million government contract with the Central Intelligence Agency. IBM contested the deal in federal court, but the court ruled that Amazon won the contract fair and square.
In an attempt to both get back at Amazon and pick up more share in the growing market in India, IBM has released some ads in the country that make Amazon's cloud services look smaller than IBM's. Since Amazon Web Services is widely accepted as being the biggest provider of cloud services in the world, it's unlikely that such a technique will pay off much.
Follow Jacqueline on Twitter @Jacqui_WSCS
Don't Miss: 10 Greenest Tech Companies in the U.S.