IBM: No Growth Means No Love From Investors
IBM (NYSE:IBM) Chair and CEO Ginni Rometty couldn't quite pull it off. Shares of the information technology and services company will close 2013 down about 2.5 percent on the year, its first annual decline since 2008.
Rometty took charge of the company in January 2012, but despite her background as senior VP and group executive for sales, marketing, and strategy at IBM, she was unable to drive meaningful revenue growth. For the nine months ended September — her first nine months on the job — total revenue contracted 4.2 percent to $72.05 billion, and for the three months ended December 31, analysts are expecting revenue to contract 0.4 percent.
Where the revenue falls apart is in hardware, IBM's Systems and Technology unit, in which the top line shrank 15.1 percent in the first three quarters to $10.1 billion, or about 14 percent of total revenue. This is down from a 15.8 percent share of revenue in the year-ago period. The unit's gross margin contracted by 2.3 percentage points to 34.4 percent over the same period.
Revenue in IBM's core Global Technology Services unit also suffered, though, contracting 4.4 percent for the nine month period to $28.6 billion, or 39.7 percent of revenue. This is about flat with the year-ago period, although unit margins did thicken by about 1.6 percentage points.
What Rometty has been able to do is drive — or at least preserve — earnings. Net income for the nine months ended September 30 was down 4.4 percent to $10.3 billion, but third-quarter income was up 5.7 percent on the year. Net income margin stayed flat at 14.3 percent for the nine month period and increased 1.5 percentage points to 17 percent in the third quarter.
Despite the revenue decline, earnings per diluted share fell just 0.3 percent to $9.35 for the first nine months of the year. EPS in the third quarter was particularly string, climbing 10.1 percent per diluted share to $3.70.
But these gains have been somewhat inflated, spurred more by asset sales, job cuts, and some favorable tax movement. This was evident to investors, and as Todd Lowenstein, a portfolio manager at HighMark Capital Management Inc., told Bloomberg, "We don't think investors are going to be paying up for financially engineered EPS."
As a result, the stock didn't get a huge amount of support. Margin expansion and share repurchases alone aren't compelling enough for investors who want to see growth.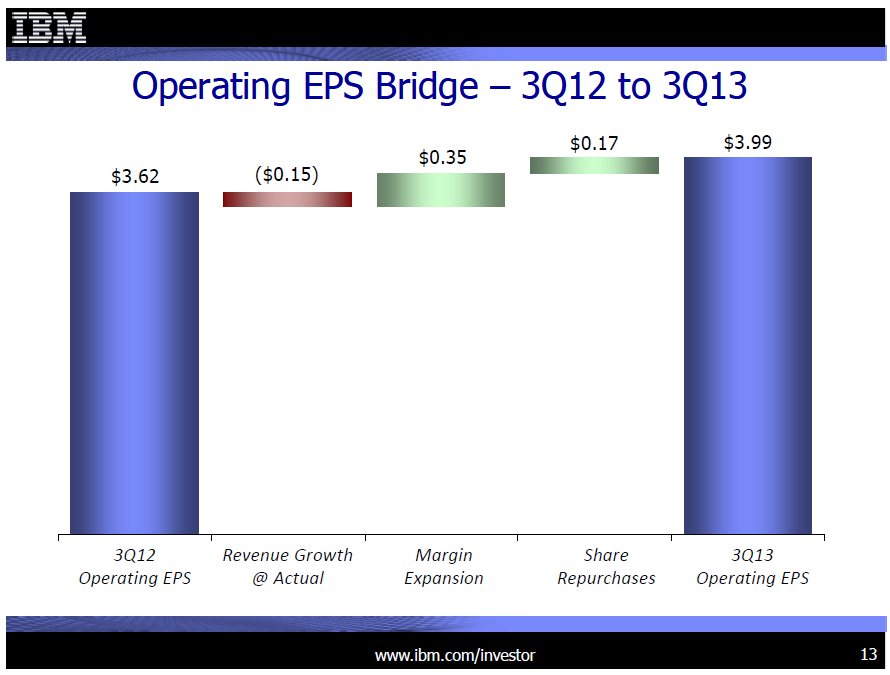 More from Wall St. Cheat Sheet: