IBM Tops Annual Patent List, Again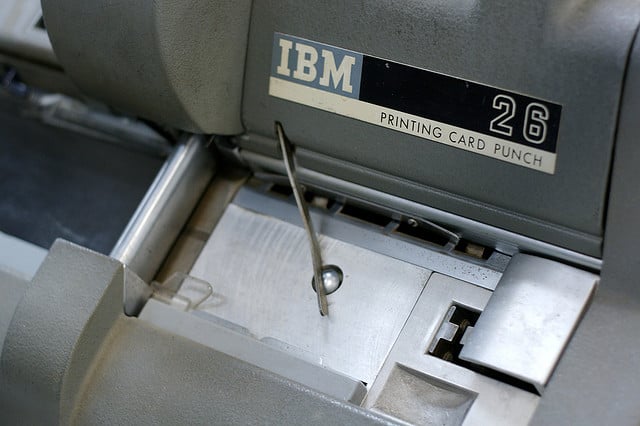 International Business Machines (NYSE:IBM) has been recognized as the company with the most patents filed in 2013, the 21st consecutive year that IBM has topped the annual list. IBM received 6,809 patents last year, the company said, and analyzing what kinds of technology the company received patents for provides a glimpse into how the tech world is growing. The company is focusing on analytics, big data, cloud computing, and cognitive technology while turning its sights away from hardware.
Rounding out the top five on the list were Samsung Electronics (SSNLF.PK), Canon Inc. (NYSE:CAJ), Sony Corp. (NYSE:SNE), and Microsoft Corp. (NASDAQ:MSFT). Only three U.S. companies broke the top 10, with Qualcomm (NASDAQ:QCOM) coming in ninth place, behind IBM and Microsoft.
"We take pride in being recognized as the U.S. patent leader, but patents are only one gauge of innovation. Equally significant is the impact that our patented inventions have when they are used to enable solutions that help clients and societies solve problems," said Bernie Meyerson, IBM fellow and VP of innovation, in the company's press release. "Furthermore, the broad range of inventions that these patents represent underscores the need for a patent system that equally and fairly promotes and supports innovation across all technical fields."
Even with all those patents, the shift from hardware to cloud-based services has been tough for IBM. The company has reported revenue declines for the past six quarters. Senior Vice President Erich Clementi said last month that improved results aren't exactly just over the horizon, as the economy continues to be weak, resulting in decreased spending on IT and dragging on IBM's financials.
But IBM is still moving forward, seeking to decrease its dependence on hardware and investing in new technology. Just last week, the company announced it will pour $1 billion into developing cognitive technology based on its Watson computer. Watson uses artificial intelligence and is famous for beating contestants on the game show Jeopardy.
"The move signifies a strategic shift by IBM to accelerate into the marketplace a new class of software, services and apps that think, improve by learning, and discover answers and insights to complex questions from massive amounts of Big Data," the company said in a press release announcing the new business unit that will be dedicated to working on Watson.
Licensing the immense number of patents grants IBM about $1 billion in revenue annual, according to Bernie Meyerson, who was interviewed by Bloomberg. "We want to maintain leadership," he said. "You want to get the innovations out there that will lead the next field."
More from Wall St. Cheat Sheet:
Follow Jacqueline on Twitter @Jacqui_WSCS