Icahn to Apple: Buy Back More Shares While They're Still Cheap
Had a nice conversation with Tim Cook today. Discussed my opinion that a larger buyback should be done now. We plan to speak again shortly.

— Carl Icahn (@Carl_C_Icahn) August 13, 2013
Activist investor Carl Icahn on Tuesday announced (via Twitter, apparently) that his fund had taken a "large position" in Apple (NASDAQ:AAPL). Icahn suggested that the company is still "extremely undervalued" — shares closed Monday at $467.36 — an argument that has been on the tip of the tongue for many investors ever since shares dropped below $500 early in the year and the company announced its massive buyback program.
Icahn, a self-made billionaire and founder of Icahn Enterprises (NYSE:IEP), has a mixed reputation as a shareholder. He is an outspoken critic of anybody he thinks is running a company poorly, and is not afraid to shake people out of board positions. He infamously referred to Navistar International (NYSE:NAV) as a "poster child for abysmal business decisions and poor corporate governance," and recently engaged in a somewhat tense media showdown with hedge fund manager Bill Ackman over Herbalife (NYSE:HLF), in which he said, "I don't like Ackman, I don't respect him, everybody knows that."
Icahn is also involved in the fight for the future of Dell (NASDAQ:DELL), and has tweeted, "All would be swell at Dell if Michael and the board bid farewell."
But far from being adversarial, Icahn seems to favor Apple. The stock itself has seen better days, but that fact is part of Icahn's position: he believes the company should repurchase even more shares while they are still cheap. The market took the news on Tuesday afternoon the only way it could: by driving Apple's share price higher.
Earlier this year, Apple announced the largest single share repurchase authorization in history. The company increased the size of its share repurchase program from $10 billion to $60 billion, brushing aside the previous record buyback of $40 billion by Microsoft (NASDAQ:MSFT).
On top of the revamped share repurchase program, Apple announced that it will increase its quarterly dividend by 15 percent. Alongside the earnings release, the company announced a dividend of $3.05 payable May 16 to shareholders of date on May 13. With annual payments of about $11 billion, Apple sits comfortably in the pantheon of the largest dividend paying companies in the world. All told, the size of Apple's capital return program to shareholders doubled in size.
Here's how Apple traded on Tuesday: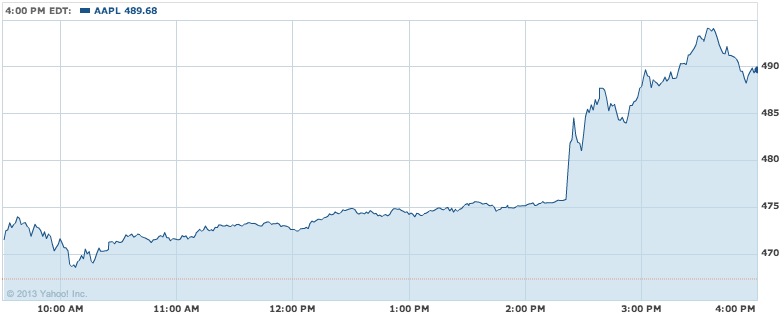 Don't Miss: Are Apple's Patent Claims Sharper Than Samsung's?